Brexit Breakthrough Risks Leaving Brits in Europe 'Landlocked'
By , , and
EU, U.K. struck pre-dawn Brexit breakthrough after stalemate

Europeans living in Britain to have rights protected in deal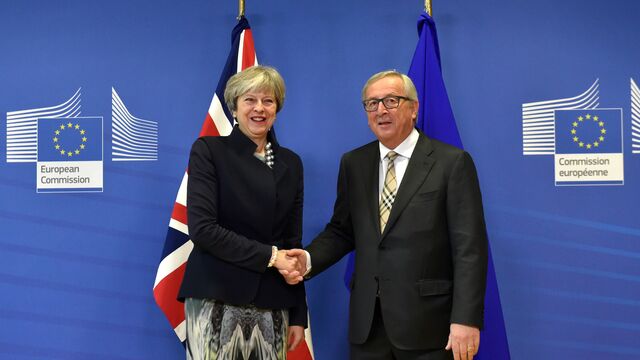 The 1.5 million Brits living in Europe face being "landlocked" after Brexit because Friday's deal doesn't clarify whether they can move freely between European Union countries after the U.K.'s departure from the bloc.
The U.K. and the EU struck a deal to unlock divorce negotiations overnight after months of stalemate. The agreements include a 45 billion-euro ($53 billion) divorce bill, protecting citizens' rights at home and in the EU, plus promises on the sensitive issue of the Irish border.
But while the deal protects the rights of expat Brits in their host EU member state "it would appear there won't be new freedom of movement," according to Liz Barratt, an immigration lawyer at Bindmans in London.
"A U.K. citizen living in France isn't going to have the right to move to Italy under European law once the U.K. leaves." It's possible that some other agreement could be reached that would allow this, she says, but the current agreement doesn't.
Brexit Deal in Brussels: What Small Print Says and What It Means
The effect of the provision is set to prompt more Britons to seek citizenship where they currently live.
"Nearly everybody I know is on course now to take on citizenship," said Fiona Godfrey, a British national who has lived and worked in Luxembourg for two decades and is co-founder of BRILL -- British Immigrants Living in Luxembourg. She will start a course in January to learn the local language and will attempt to acquire dual British-Luxembourgish nationality before Brexit.
"We thought we had certainty in May," said Godfrey, who lives with her German husband. "But what we face this morning is a deal which leaves us potentially landlocked in our member state of residence."
Sarah Fairman, a British citizen living in the Netherlands and studying for a Masters' degree in Russian and Eurasian Studies, said that because of Brexit she's now thinking about applying for Dutch citizenship. That involves learning the language and taking a test.
"I think it'll probably be a challenge," she said, but "for my future it's important that I have as many opportunities as possible." 
U.K. Prime Minister Theresa May said the more than 3 million EU citizens in the U.K. would have their rights set in law and enforced by British courts. However the European Court of Justice will continue to have a role in overseeing their rights for eight years after Brexit.
For Europeans living in Britain there are also concerns, despite their rights being enshrined in law post-Brexit. Friday's agreement sets out plans for citizens to receive new documents that certify their rights to live in a country. It says that process will be "smooth and streamlined," but it could become an administrative burden for people who thought their rights were already protected.
Flurry of People
Barratt said she expects to see a "flurry of people" applying for new documents that might make it easier for them to make the case that they could stay in the U.K. after Brexit. Those include U.K. permanent residence cards, which European nationals can receive if they've lived in the U.K. for five years, and "registration certificates" from the Home Office for those who've moved to the country more recently. Both documents cost 65 pounds ($87).
She said Friday's update was "important" because it would offer some reassurance to U.K. and EU citizens.
"For people already here, there'll be some administrative process but the principle that's been agreed is that those rights will be recognized," Barratt said. "They're not going to say to people already with rights in the U.K. or abroad that these fall away and they have no rights to stay" after Brexit.
Monique Hawkins, a Dutch woman who has lived in the U.K. for 30 years and is part of a group called The 3 Million, which is fighting for the rights of EU citizens in the U.K., said there was "still a long way to go." 
She fears that people who are rejected for settled status, which lets EU citizens live in the U.K. after Brexit, could lose their jobs, homes and healthcare and have their money frozen. That rejection "could well be just by a mistake by the Home Office," she said.
But she said she's pleased the agreement will allow her to move her mother to the U.K. in the future. "That was a real worry that I wouldn't be able to do that, if she needs care."
The deal is good news for U.K. businesses that employ EU nationals, said Edward Wanambwa, an immigration lawyer at Russell-Cooke in London. While the "agreement has only been reached in principle, British businesses already have a far better basis on which to plan ahead in respect of those members of staff," he said.
— With assistance by Chris Elser
Before it's here, it's on the Bloomberg Terminal.
LEARN MORE