Billionaire Sawiris Says He's Now Open Again to Investing in Oi
By , , and
Naguib Sawiris withdrew a $1.2 billion offer in Oi in October

Tycoon also planning agricultural project in Ivory Coast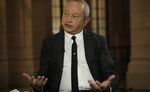 Naguib Sawiris may have had a change of heart when it comes to Oi SA. The Egyptian billionaire now says he'd consider investing in the embattled telecommunications giant if Brazil's government takes the "right step."
Sawiris has kept an eye on the $19 billion bankruptcy case since Oi filed for protection in June 2016. The majority stakeholder in Egypt's Orascom Telecom Media & Technology Holding SAE was among those who initially voiced a willingness to invest, before getting spooked by investor infighting. He made an offer to inject $1.2 billion in new money into Oi late last year, together with a group of bondholders, only to say this October that he was unlikely to follow through.

His interest was revived as recent judicial rulings may clear the path for a resolution in the bankruptcy saga. The court presiding over the case on Nov. 30 ruled that Oi's chief executive officer has the power to negotiate a restructuring plan with creditors and present it to court without approval from the shareholder-controlled board.
"We are waiting for the government now to take some steps," Sawiris said in an interview in the resort town of Sharm El-Sheikh, Egypt. "Stakeholders have been fighting and wasting time. If the government takes the right step and they need an industrial operator like us we are willing to go there and help."
Brazil's attorney general is leading a task force to study a solution for Oi debt that's owed to government agencies and state banks, including 11 billion reais ($3.36 billion) to telecommunications regulator Anatel. CEO Eurico Teles, who took over after Marco Schroeder resigned amid tension with the board, has until Dec. 12 to present a plan to the court, so that a general creditors' meeting may happen by Dec. 19.
Chinese telecom giant China Telecom Corp., another potential foreign investor, also will wait for the conclusion of the debt restructuring before presenting a firm offer, O Estado de S. Paulo newspaper reported Dec. 6, without identifying the source of the information.
Sawiris also said:

OTMT is considering starting a residential- and second-home development business in Egypt
OTMT has $250 million available and may borrow a similar amount. He expects a lot of investment announcements in 2018
Company plans two agri-industry projects in Ivory Coast next year for about $30 million each. It is also looking at similar projects in Mali, Burkina Faso, Sudan and South Sudan
Studying mining projects in Niger and Mauritania
Before it's here, it's on the Bloomberg Terminal.
LEARN MORE