Balance of Power: Now for Theresa May's Next Brexit Feat
By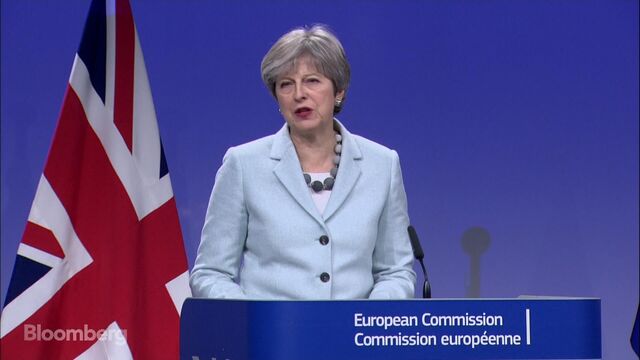 The Brexit breakthrough announced in Brussels in the early hours of Friday is a rare moment in the sun for Theresa May.
Hailed in unusually gushing terms by all sections of her fractious Conservative party, the European Union's recommendation to move from divorce talks to the U.K.'s future relationship with its biggest market surely helps shore up the beleaguered prime minister, for now.
EU President Donald Tusk welcomed the deal as a "personal success" for May, but struck a note of caution: that was the easy part.
The clock is counting down to Brexit, one of most startling policy decisions of the postwar era that continues to divide the U.K. There are now 477 days until the U.K. leaves the EU, less time than has elapsed since Britain's referendum.
The EU is good at fudges, and outstanding questions over the Irish border, EU citizens and the Brexit bill will be worked out. But forging a bespoke trade deal in the time remaining looks ambitious given that it took seven years to negotiate the CETA agreement with Canada.
Today is May's day to savor. Yet with her party's internal differences over Europe as irreconcilable as ever, she can't enjoy the respite for long.

Sign up to receive the Balance of Power newsletter in your inbox, and follow Bloomberg Politics on Twitter and Facebook for more.
Global Headlines
Jerusalem fallout | Israeli security forces are bracing for violent protests after Palestinians attend Friday prayers following U.S. President Donald Trump's recognition of Jerusalem as the Jewish state's capital. The Trump administration warned the moderate Palestinian Fatah party not to cancel talks with Vice President Mike Pence later this month, while the UN Security Council is due to discuss the situation later today.
Shutdown crisis (temporarily) averted | The U.S. Congress staved off a shutdown this week — but only by kicking the spending showdown can down the road to Dec. 22. Republican leaders are betting that punting the deadline on contentious spending decisions until right before Christmas will help them leverage a bipartisan agreement. But the gambit could easily backfire. 
Russia probe drip, drip, drip | Walid Phares, a Trump foreign policy campaign adviser, is due to face questioning today by the House Intelligence Committee. The private session — part of the panel's probe of Russian election meddling — comes after Chairman Devin Nunes was cleared of allegations he disclosed classified information, opening the way for him to resume full control of the investigation. 
Alarm bells for Modi | Indian Prime Minister Narendra Modi's expected easy election win in his home state has suddenly become a toss-up, with a new poll showing the ruling party tied with the opposition Congress party. A defeat in Gujarat — a region of 60 million people that Modi led for more than a decade — would raise questions about his ability to overcome economic discontent and win national elections in 2019. 
Cape Town's thirst | South Africa's second-largest city, whose sandy beaches, flat-topped Table Mountain and wine lands attract millions of tourists each year, is on the brink of running out of water. As Mike Cohen reports, Mayor Patricia de Lille spends 70 percent of her day dealing with the crisis, with most projections showing the taps could run dry as soon as May before the winter rains — the so-called Day Zero. 
And finally… Emmanuel Macron is known for his love of language and poetry, and he didn't disappoint this week, in tweets lamenting the passing of an iconic singer often dubbed "the Elvis Presley of France." The French president will give Johnny Hallyday's eulogy at the Madeleine church in Paris tomorrow, in a quasi-state funeral that will see the star's coffin carried down the Champs-Elysees, followed by 500 bikers. "We all have something of Johnny Hallyday in us," Macron said.  He "was the best of the French spirit, a unique blend of intelligence, elegance and malice."

— With assistance by Helene Fouquet, Kathleen Hunter, and Brendan Scott
Before it's here, it's on the Bloomberg Terminal.
LEARN MORE