Arizona Republican Trent Franks Resigns From House
By
Congressman had discussed surrogate motherhood with staff

He offered staff member $5 million to carry his child, AP says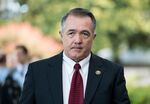 Arizona Republican Trent Franks said Friday he's resigning from the House immediately, moving up his earlier plan to leave at the end of January amid an ethics investigation into sexual harassment allegations.
In an earlier statement Thursday announcing his plan to quit on Jan. 31, Franks said the House Ethics Committee was investigating him for discussing surrogate motherhood with two female staff members. After he and his wife had had twins through the process, they were looking for another surrogate to carry a child for them, he said.
The Associated Press reported Friday that a former staff member for Franks said he repeatedly asked her to carry his child and offered her $5 million. AP said it confirmed that the woman worked in Franks's office but was keeping her identity confidential.
Franks said in a statement Friday that he decided to leave now after his wife was admitted to a hospital Thursday night "due to an ongoing ailment."
Franks, 60, said in his statement Thursday that he never engaged in intimidation or sought sexual contact with any staff member.
"I clearly became insensitive as to how the discussion of such an intensely personal topic might affect others," he said. "I deeply regret that my discussion of this option and process in the workplace caused distress."
House Speaker Paul Ryan was briefed last week on "credible claims of misconduct" by Franks and confronted him, according to a statement from his office. Ryan said he told Franks he should resign.
Franks was first elected to represent a solidly Republican district northwest of Phoenix in 2002. In his last run for re-election, he got 69 percent of the vote. He has been an outspoken opponent of abortion and was a member of groups focused on children and families. Franks was a member of the Judiciary Committee and Armed Services Committee, as well as the conservative House Freedom Caucus.
He was the third lawmaker to announce his departure from Congress this week. Democratic Representative John Conyers of Michigan quit Tuesday over sexual harassment allegations. Democratic Senator Al Franken said Thursday he'll resign in the coming weeks to end the turmoil over allegations that he groped or tried to forcibly kiss several women. More than half of his Democratic colleagues demanded he step down to make clear that mistreatment of women is unacceptable.
Before it's here, it's on the Bloomberg Terminal.
LEARN MORE