Lorde, the Weeknd, Mark Ronson Hits Acquired in $150 Million Deal
By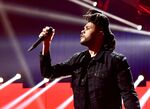 A major songwriting catalog with hits including Lorde's "Royals," the Weeknd's "Can't Feel My Face" and Mark Ronson's "Uptown Funk" is changing hands in a bet on the music industry's resurgence.
Kobalt Capital Ltd. agreed to acquire the collection of Songs Music Publishing, which handled the royalties on more than 3.5 percent of music played on U.S. radio in 10 of the last 12 quarters, the companies said Friday. The deal is valued at more than $150 million, according to people familiar with the matter.
Music copyrights are becoming hot commodities as streaming services such as Spotify and Apple Music help the industry rebound from the dark days of Napster and file-sharing. Spending on music in the U.S. is headed for a third straight year of growth after almost two decades of decline, and that's drawing interest from investors.
Royalty Flow, created by a company that auctions music rights, is raising money this year to acquire rights itself. In June, Imagem, which holds rights to 250,000 songs including Daft Punk, Pink Floyd and Stravinsky, was sold to publisher Concord Bicycle Music in a deal Billboard valued at $600 million.
Kobalt Capital, which raised $600 million for its second fund in November, is a subsidiary of Kobalt Music Group Ltd., which runs a business administering publishing rights for songwriters such as Beck and Faith Evans. The company, whose investors include Hearst Entertainment Corp. and Michael Dell's MSD Capital LP, was valued at $775 million in a funding round in May.
The company was founded in 2000 by Swedish native Willard Ahdritz just as the internet began destroying the music industry's primary source of sales, the CD. Ahdritz promised artists transparency and data on the use of their music. The company introduced an app this year to help songwriters track their royalties.
Kobalt Publishing will manage the catalog that Kobalt Capital is acquiring from Songs, the companies said.
The deal is the culmination of more than a decade of work by Songs Music founder Matt Pincus, son of late investment banker Lionel Pincus. The former rocker, who worked for a stint at music giant EMI, built his roster first by targeting overlooked Christian rock and hard-rock musicians before branching out into more commercial acts. Songs Music is expected to eventually wind down operations after the catalog is sold.
Before it's here, it's on the Bloomberg Terminal.
LEARN MORE