U.K. Reliance on Kindness of Foreign Investors May Be Overstated
By
Gross capital inflows since 2012 subdued, BOE economists say

Britain like 'landed gentry' living off foreign investments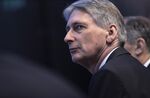 Britain's reliance on the "kindness of strangers" -- to borrow Bank of England Governor Mark Carney's phrase -- might be less than previously thought.
Financial-stability officials warned just last week that the U.K.'s large current-account deficit makes the country "vulnerable" to global investors losing appetite for British assets, which could put pressure on sterling. The gap stood at a record 5.9 percent of GDP last year. But a new blog post by staff at the central bank says that the threats may be overstated.
Authors Stephen Burgess and Rachana Shanbhogue say that gross, rather than net, capital flows since 2012 indicate "extremely subdued" inflows compared with the past. Instead, they found that the U.K. has benefited from increasing capital gains on past foreign investments and used these to fund spending, which carries lower financial-stability risks.
"One way of financing a current-account deficit is through foreign investment in U.K. financial or physical assets," the economists wrote. "But this 'kindness' has not helped fund the U.K. current-account deficit in recent years. In fact, between 2012 and 2016, there was no kindness at all. Non-residents actually ran down their holdings of U.K. assets, rather than helping to fund the deficit."
'Lifestyle of Excess'
The research found that instead Britons have cashed in on investments abroad to fund foreign spending, running down overseas holdings by 526 billion pounds ($700 billion) between 2012 and 2016 -- more than funding the current-account deficit.
Given the U.K.'s large stock of foreign assets, Burgess and Shanbhogue suggest it could continue to do this for "decades" in theory. While there is no room for complacency, the low levels of new foreign inflows in recent years mean Britain would be "relatively unlikely to experience a stop in financing flows in the near future."
"The U.K. is less vulnerable to the whims of foreign investors than they have been in the past, because recent borrowing flows have been so small," the economists wrote. "Rather than a pauper relying on the charity of strangers, the U.K. is more like a member of the landed gentry, using its past foreign investment to fund its lifestyle of excess."
Before it's here, it's on the Bloomberg Terminal.
LEARN MORE