Goldman Sachs Has Nearly Vanished From Hong Kong's IPO Scene
By and
Wall Street bank ranks 30th among Hong Kong IPO arrangers

Goldman launches $64 million IPO for orthopedic device maker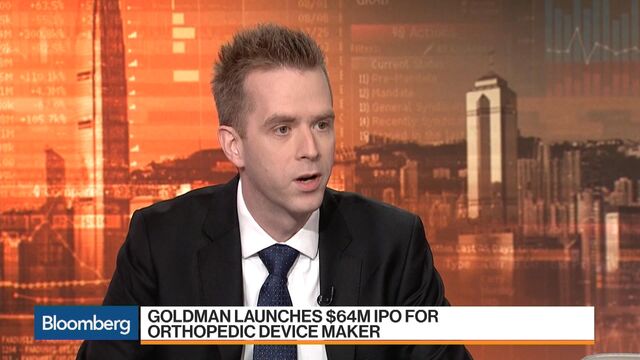 Goldman Sachs Group Inc. has nearly vanished from the Hong Kong IPO scene this year.
The Wall Street bank has worked on only one completed listing in the city this year, Guotai Junan Securities Co.'s $2.2 billion share sale in March, data compiled by Bloomberg show. It ranks 30th among Hong Kong IPO arrangers, behind lesser-known rivals like Shanghai Pudong Development Bank Co. and Zhongtai International Securities Ltd. That's down from first place in 2014.
This week, Goldman launched its second Hong Kong listing of the year: a $64 million deal from orthopedic device maker AK Medical Holdings Ltd. Goldman hasn't worked on an IPO that small in the Chinese territory since 2000, when it helped arrange a $40 million share sale for internet incubator Techpacific.com Ltd., the Bloomberg-compiled data show.

AK Medical, slated to start trading Dec. 20, won't do much to help Goldman move up the league tables. However, the listing candidate is applying new technology to a fast-growing part of the Chinese health-care market, and Goldman could be building a relationship in the hopes of future deals after it gets bigger.
The Beijing-based company uses 3D printing to produce joint replacements and spine implants, and its net income rose 58 percent in the two years through 2016. It can't hurt that two other Chinese orthopedic device makers, Trauson Holdings Co. and China Kanghui Holdings Inc., were bought by larger Western rivals in recent years.
Goldman is on track to arrange the lowest volume of Hong Kong IPOs since 2008, when it advised on $1.4 billion of first-time share sales, according to data compiled by Bloomberg. To be sure, the city's market for IPOs is heading for its worst year since 2012. And Goldman's equity business is doing well in other areas: it's ranked second among arrangers on Hong Kong equity deals overall thanks to its work on block trades, the data show. 
The bank has also arranged some large U.S. share sales for Chinese companies this year, advising on search engine operator Sogou Inc.'s $658 million IPO and express delivery provider Best Inc.'s September listing. 
"We have been very active in Hong Kong ECM this year, leading the market in follow-ons, including the largest of 2017," a spokeswoman for Goldman said in an emailed statement. "We expect the IPO market to improve in 2018, a view reflected by our robust deal pipeline."

Goldman is a joint sponsor on the planned $10 billion share sale from state-owned China Tower Corp., which was originally pushing to list this year and is now targeting early 2018, people with knowledge of the matter have said. The bank was recently added to online-financing company Lufax's proposed Hong Kong IPO, which could raise about $5 billion next year, according to people with knowledge of the matter. 
The firm is also among banks advising bad-loan manager China Orient Asset Management Co. as it seeks to raise funds ahead of a planned listing in 2018, the people said, asking not to be identified because the information is private. 
The spokeswoman for Goldman said the bank doesn't comment on individual deals, while representatives for Lufax and China Orient declined to comment.
— With assistance by Jonathan Browning, Vinicy Chan, Dingmin Zhang, Angus Whitley, and Yue Qiu
Before it's here, it's on the Bloomberg Terminal.
LEARN MORE