Schulz's 'United States of Europe' Proposal Unites Everyone Against Him
By and
Martin Schulz accused of 'radicalism' with 1925 party point

German Left leader calls Schulz language 'otherworldly'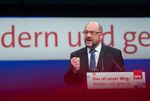 German Social Democratic leader Martin Schulz used a 75-minute speech Thursday to make an urgent pitch to his restive party base for fresh talks with Chancellor Angela Merkel's bloc. But one line on Europe ended up alienating allies and foes across the political spectrum.
"Why don't we work to make a United States of Europe a reality by 2025 at the latest?" Schulz told SPD delegates in Berlin. He proposed a European constitutional treaty to create a federal Europe, "which isn't a threat to member states but rather a sensible compliment."  Any state that declined to ratify the treaty "will automatically leave the EU," he said.
Schulz, a former head of the European Parliament, was making reference to an SPD position on European unity dating to the prewar Weimar Republic in 1925. His comments were uniformly condemned by right and left variously as naive, a distraction or a reflection of his true ambitions if he enters government in a coalition with Merkel.
Alexander Dobrindt, who leads the parliamentary caucus of Merkel's Bavarian sister party -- a potential coalition partner for Schulz -- called the SPD head a "Europe radical," adding that he is "dividing Europe," according to Deutsche Presse Agentur.
"Sad," Sahra Wagenknecht of the anti-capitalist Left party wrote on Twitter, describing his notion as "otherworldly."
Nigel Farage, the former U.K. Independence Party head and leading Brexit campaigner, tweeted that the result of Schulz's suggestion would be "a very small European Union," with the hashtag "#ThankGodWeAreLeaving."
Merkel, who may meet Schulz for talks as soon as next week, was circumspect when asked about his proposal, declining to endorse it. Strengthening the EU economy and defense is more important than such lofty goals, she said at the Chancellery in Berlin.
Before it's here, it's on the Bloomberg Terminal.
LEARN MORE