Polish Ruling Party Set to Switch Prime Ministers
By and
Law & Justice meeting to discuss cabinet shuffle Thursday

Deputy PM Morawiecki floated as potential new prime minister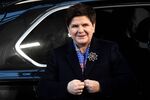 Poland's ruling party is set to switch prime ministers halfway into the parliamentary term to refocus on the economy after spending the last two years on political reforms, with Finance Minister Mateusz Morawiecki floated as the successor to Prime Minister Beata Szydlo.
The Law & Justice's leaders are meeting on Thursday to discuss the shuffle and may name their candidate for prime minister, said Ryszard Terlecki, a deputy parliament speaker and party spokesman. The change from focusing on "legal issues and the political system" to the economy will help "ordinary citizens reap the fruit" of fast economic growth, he said.
Cabinet changes are being discussed as parliament is set to approve legislation that would give politicians sweeping new powers over the judiciary, and force about 40 percent of Supreme Court justices to retire. The overhaul follows power grabs over common courts and the Constitutional Tribunal, moves that triggered European Union investigations into whether Poland was upholding the bloc's democratic values.
Morawiecki, already the face of the Polish government for many investors following his numerous trips to London and New York, isn't likely to make any larger fiscal policy tweaks, according to analysts at ING Bank Slaski SA and BGZ BNP Paribas SA. The zloty gained less than 0.1 percent to 4.2103 per euro by 5:50 p.m. in Warsaw and the WIG20 stock index declined 0.1 percent.
Morawiecki's potential nomination for prime minister probably won't cause a big stir among investors who've followed the political developments of the past days, said Piotr Kalisz, chief economist at Bank Handlowy SA. "It wouldn't be a big surprise."
EU Sanctions
Morawiecki, 49, drafted Law & Justice's long-term economic program that envisions carving out a bigger role for the government in business affairs. That fits into the party's drive to centralize power and steer Poland away from the more liberal, multicultural model that's dominated the country's 28-year post-Communist transformation.
The country's judicial overhauls, which Morawiecki has backed, threaten to trigger unprecedented EU sanctions against a member country's government. Poland is also at odds with Brussels over its refusal to accept any refugees, with the bloc's executive on Thursday referring the country to the EU Court of Justice for not complying with its obligation to relocate migrants.
"A change of prime minister surely distracts people from the court overhaul and this isn't coincidental," said Olgierd Annusewicz, a political scientist at Warsaw University. "This way, the government can say that all the negative issues that happened until now would somehow be charged to Szydlo's bill."
Click here to read more about Law & Justice's judicial overhauls
Morawiecki, the former chief executive officer of Bank Zachodni WBK SA, in which Banco Santander SA holds a majority stake, helped implement an expansion of welfare spending while curbing tax loopholes to shore up budget revenue. Keeping the budget shortfall under control will be important as Morawiecki is counting on foreign investors to help finance state borrowing, with non-residents holding 202 billion zloty ($57 billion) of Poland's local-currency bonds.
Szydlo announced a revamp of her cabinet in October amid reports of infighting between ministers. Law & Justice leader Jaroslaw Kaczynski is also seen as a potential candidate to take over as prime minister, according to party officials.
After a prime minister steps down, the president will nominate the successor, who would then have 14 days to submit a program for the cabinet and win a confidence vote in parliament. Instead of through a resignation, the ruling party could also exchange premiers with the backing of at least 231 lawmakers in the 460-seat lower house. Law & Justice has 235 lawmakers as well as the support of small groups.
— With assistance by Piotr Bujnicki, and Konrad Krasuski
Before it's here, it's on the Bloomberg Terminal.
LEARN MORE