Osborne 'Hopeful' Lawmakers Will Push May to a Soft Brexit
By
Former chancellor says parliament won't back hard exit

Says prime minister alienated Remain voters in election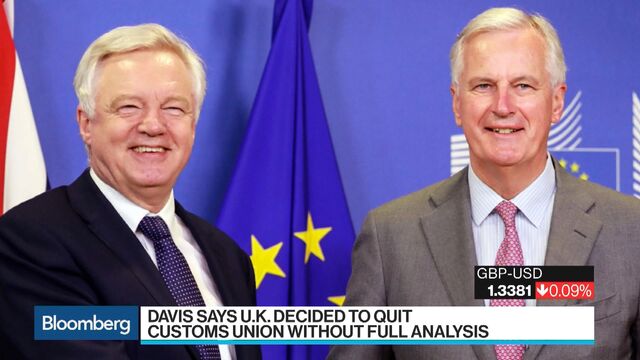 Britain is likely to end up going for a softer Brexit, because there aren't enough parliamentary votes for anything else, former Chancellor of the Exchequer George Osborne said.
Osborne quit Parliament at this year's election and is now using his position as editor of the London Evening Standard to launch regular attacks on Prime Minister Theresa May, who sacked him from the Treasury in 2016. 
In a speech to journalists in Parliament on Thursday, he said leaving the European Union was "a historic mistake, and is already being seen as such by the rest of the world." He said he accepted that the result of the referendum must be respected, "but how we leave was not on the ballot paper."
Osborne said said he was "hopeful" that "long before we get to the general election" the government will advocate a "softer" form of Brexit. "I used to be a bit of an amateur chief whip, and I don't think they've got the votes" for a hard Brexit, he said.
He characterized May's election strategy as telling those Britons who voted against Brexit to "shut up," and said that explained why the Conservative Party lost seats in metropolitan areas. "If you say to 48 percent of the country, decision over, we don't want to hear from you again, 48 percent of the country will make their voice heard."
The speech wasn't wholly serious. Osborne mentioned a trip he had taken years earlier with now-Foreign Secretary Boris Johnson, his opponent in the Brexit campaign, to meet the then-governor of Texas, George W. Bush. The future president spotted that Johnson's watch featured a picture of the revolutionary Che Guevara, and joked that people in Texas were executed for that sort of accessory. "That was one of those broken promises, unfortunately," Osborne said.
He opened by saying that it was "good to be back" and to "come to the place where there's real power, and real decisions are being made about Britain's long-term future." He paused. "Sorry, this is my Goldman Sachs speech."
Before it's here, it's on the Bloomberg Terminal.
LEARN MORE