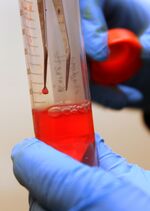 NASH (short for non-alcoholic steatohepatitis) giveth, and NASH taketh away.
On Tuesday, Galectin Therapeutics Inc. unsuccessfully tried to spin a failed mid-stage in patients with the liver disease as a success and saw its shares plunge 30 percent. A day later, a mid-stage NASH success for Madrigal Pharmaceuticals Inc. saw its shares pop 88 percent. Investors might be giddy about Madrigal. But NASH remains a poorly understood and comically-crowded disease area where a lot more Galectin-style failures are coming. 

It's easy to see why companies are excited about NASH. As many as 15 million people in the U.S. may have the condition, and it could be a multi-billion dollar drug market.
But it's a complicated and slow-to-develop disease. It can't be diagnosed conclusively without a big needle jab to the liver, which people don't exactly queue up for. The symptoms aren't always obvious, and the disease sometimes resolves spontaneously. Patients with NASH are often obese, and may be more likely to die from cardiovascular disease. It's not at all clear what the FDA's approval standard for this disease is, or how successful an approved drug would be on the market. 
A large number of companies are testing drugs for the condition in a variety of patient subgroups and with a variety of different study designs. 

The above doesn't even give a full sense of how crowded the field is, Allergan PLC, Shire PLC, Merck & Co., Ionis Pharmaceuticals Inc. and several others are also working on treatments for the condition. Galectin is a reminder of how the perils of NASH can lead companies astray. The company's drug didn't show a statistical benefit in its trial, but researchers managed to dig up a subset of patients where it appears to work better. It may still run a final stage trial. It shouldn't; the track record for this kind of post-hoc cherry picking -- which Allergan is also guilty of -- is very poor. 
Madrigal's data is promising. But the company initially looked at at whether the drug is able to reduce liver fat. It will likely have to show it can improve liver fibrosis to be a real contender, and investors will have to wait on that data. There is a long distance between its medicine and the market. And it's going to get harder and harder to recruit patients for larger late stage trials given the current profusion of studies and the characteristics of the disease.
Intercept is a cautionary tale about the risks of buying in too deeply into early-stage data -- investors piled into the stock after Phase 2 NASH data was released for its lead drug. But shares have since plunged after the medicine ran into safety issues in another condition. 

Eventually, someone will crack the NASH puzzle. But even though money and interest is pouring in, don't expect it to happen any time soon.
Before it's here, it's on the Bloomberg Terminal.
LEARN MORE