May and Juncker Meet in Brussels as Deal Expected: Brexit Update
By , , and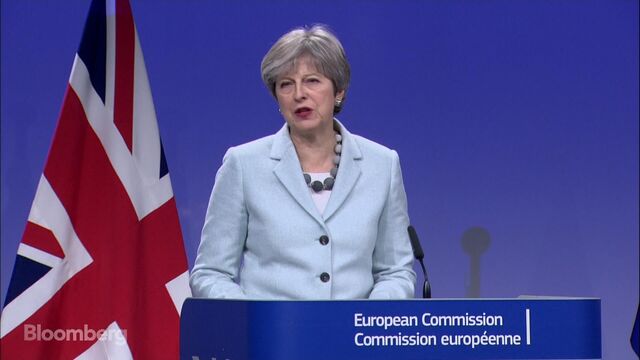 U.K. Prime Minister Theresa May and EU Commission President Jean-Claude Juncker are due to speak to reporters at 6:30 a.m. London time as a deal is expected on the Irish border that will allow talks to move on to the second phase. The Bloomberg British pound index is at its highest since September 2016.
Here are the latest developments, updated throughout the day. Time-stamps are London time.
Democratic Unionist Party Leader Gives Go Ahead (6:10 a.m.)
Arlene Foster, the leader of Northern Ireland's DUP, told Sky News that there had been substantial changes made to the text, and that the agreement meant there would be no red line down the Irish Sea --a point she had raised back on Monday as a deal breaker. Foster said there were still matters that she would have liked clarified, a hint that while the DUP seems on board it reserves the right to make life difficult for May further down the line.
"But there are still matters there that we would have liked to see clarified," she said. "We ran out of time, essentially. We think that we needed to go back again and talk about those matters. But the prime minister has decided to go to Brussels in relation to this text and she says she has done that in the national interest."
Meanwhile, the right hand man of European Commission President Jean-Claude Juncker -- Martin Selmayr -- tweeted a picture of white smoke, yet another sign that a deal is done.
May and European Council President Donald Tusk will meet at 08:00 a.m. in Brussels and a press statement will follow half hour later.
May, Juncker Meet in Brussels (6:02 a.m.)
May and Juncker met in Brussels, as a deal was reported to have been sealed. Brexit Secretary David Davis was also with them. Davis and Juncker embraced. May and Juncker shook hands.
The pound rose 0.3 percent
The Northern Irish DUP has agreed to a deal, Irish broadcaster RTE reported. Some text was added to he agreement about Northern Ireland's guaranteed access to the U.K. market, in a concession to the party, RTE said.
Juncker has arrived and May is on her way.


May, Davis Head to Brussels to Meet Barnier, Juncker (04:57)
The U.K. premier's travel plans were flagged in an early-morning email from the government. Alongside Davis, she'll meet with Juncker and Barnier shortly before 7 a.m. at the Berlaymont building in Brussels. This would follow through on May's Monday pledge to reconvene in the Belgian capital before the week is up.
Pre-Dawn Press Conference in Brussels Possible (04:30)
Juncker and May are likely to meet this morning at 7:00 a.m. CET at the Commission's headquarters in Brussels. This would be followed by a press point after the meeting in the Berlaymont press room at approximately 7:30-8:00 a.m. CET the Commission said in a statement. EU Council President Donald Tusk is due to make a statement on Brexit in the Belgian capital at 07:50.
Asked whether this statement means that a deal is done, an EU official said probably yes, though a definitive confirmation is expected within the next 1.5 hour.
May's Chief Whip Suggests Phase 2 Talks Imminent (OO:02)
In a flurry of tweets on either side of midnight, Government Chief Whip Julian Smith appeared confident that a deal was in reach. He talked about phase 2 of the Brexit talks -- discussions on the future trade relationship between Britain and the EU that will be the U.K.'s prize for resolving the Irish border question. Smith, who's been involved in talks to get Northern Ireland's Democratic Unionist Party on board, also commended May for her "energy, persistence and drive" in working to secure a deal.
"@theresa_may has led very challenging negotiations this week with energy, persistence & drive," he wrote on Twitter. "I will continue to do everything I can to ensure that the views of @Conservatives MPs are fully reflected in phase 2."
In another clue about progress, May's chief of staff Gavin Barwell tweeted the following at 1:18 a.m. London time: "Home for 3 hours sleep, then back to work." Of course, work could either be a trip to Brussels, or more efforts to secure the agreement of the DUP.
Coming Up:
Dec 8: Chief EU negotiator Michel Barnier speaks in Paris
Dec. 11: EU leaders' representatives meet in Brussels to prepare for summit
Dec. 12: EU ministers meet in Brussels to finalize summit preparations
Dec. 14: EU summit -- this is when U.K. wants EU to sign off on divorce terms so talks can move on to trade
What Happened on Wednesday:
— With assistance by Thomas Penny, Ott Ummelas, Dara Doyle, and Alex Morales
Before it's here, it's on the Bloomberg Terminal.
LEARN MORE