Backroom Dealing Shows Europe's Two Key Players Mean Business
By , , and
Merkel backs Macron while reeling in ardent euro enthusiasts

France targets banking union now, roadmap for budget in 2024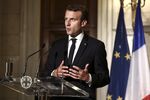 When Angela Merkel's push for a fourth term ran into trouble last month, she immediately called Emmanuel Macron.
The French president has almost as much riding on a favorable outcome to coalition talks in Germany as the chancellor, and after speaking to her he got on the phone to Martin Schulz, the Social Democratic leader with the power to keep Merkel in the chancellery, according to a person with knowledge of their exchange.

Schulz and Macron have a shared past on the center left and, perhaps more importantly, common goals for the European Union's future. Within hours of their conversation, Schulz dropped his blanket opposition to allying with Merkel and began inching his party toward another grand coalition.
"As French president -- and one with whom I have long-standing ties -- he's highly interested in seeing an end to the policy blockade on necessary reforms for the euro zone, particularly in the German Finance Ministry," Schulz said later.
Behind the Scenes
Europe's pre-eminent leaders may not have reached an agreement on exactly where they want to take the EU, but the episode shows they are working together behind the scenes to keep the project moving forward. Faced with the U.K.'s decision to quit the bloc, eastern European challenges to some of the EU's core values and a populist wave that favors the nation state over any shared sovereignty, Macron and Merkel see a stronger Europe as the best response.
The French regard 2018 as a crucial window to set Europe on course for seven years of integration to compare with the epic push which created the single currency. EU business will effectively grind to a halt ahead of European Parliament elections in 2019.
"The worry is that we don't manage to advance quickly enough," said Michala Marcussen, chief economist at Societe Generale. "The political window of opportunity is relatively short."
Stung by years of euro crisis and chastened by the arrival in the Bundestag of the euro- and EU-skeptic Alternative for Germany, the political class in Berlin is divided over European policy. Some are openly hostile to a Europe where Germany is expected to pick up the tab for what they see as spendthrift states. But Merkel has twice in a month prevented Macron's opponents placing roadblocks in his path.
Joint Cooperation

The latest evidence of their cooperation emerged this week when Portugal's Mario Centeno, who supports Macron's push for a euro-region budget, was chosen to lead the group of euro area finance ministers over Slovakia's Peter Kazimir, favored by German budget hawks. French Finance Minister Bruno Le Maire lobbied hard for support from Merkel's team during a visit to Berlin last month, following up with calls from Beijing, Shanghai and then Paris through last weekend, according to a person with knowledge of the diplomacy.

During the ill-fated coalition talks with Germany's Free Democratic Party and the Greens in November, the chancellor refused FDP leader Christian Lindner's demands to rule out the deeper euro integration that Macron sees as the end goal of his long-term plan. She kept in contact with Macron throughout.
Paris is still holding its breath until the next German government is in place. Macron's circle is acutely sensitive to the delicate balancing act that Merkel is engaged in as she seeks to knit together two parties that suffered losses in September's election. That led to exasperation at EU Commission head Jean-Claude Juncker's decision to set out his own vision for euro integration Wednesday, in what French officials saw as a diplomatic faux-pas.
Some in Berlin meanwhile see the French as taking advantage of German domestic distractions to push through their agenda, according to two high-ranking members of Merkel's party.
French Linchpin
For the chancellor, entering her fourth term and 13th year in office, the close cooperation with France's most enthusiastically pro-EU government in two decades offers a chance to seal a European legacy after years spent fighting crises. That doesn't mean meekly going along with France: In the coalition talks she rejected Green positions that would have given Macron all he wanted, according to another German government official. She is preparing to take the same tack in talks with the SPD.
Remaking European policy on everything from immigration to budgets is the linchpin of Macron's strategy to revive economic growth in France, address populist anger -- and get re-elected in 2022. Accordingly, France has a clear set of priorities on the key economic questions facing the EU, according to a government official.
The first is to complete the banking union, fixing measures found wanting such as bank resolution and adding others such as deposit insurance that haven't progressed beyond the drawing board. The second is a fiscal back-stop along the lines of the European Monetary Fund.
On the idea of a euro-zone budget -- and possibly a common finance minister to go with it -- the determination is real, but the timetable stretches to about 2024, after Merkel has left office and halfway into a second Macron term. The official likens the process to the creation of the single European currency and the Maastricht Treaty, for which serious talks took place over years and were only completed in 1995, ushering the euro into existence in 1999.
Germany will in the end have to go along with efforts to strengthen the euro area, according to Guenther Oettinger, the EU budget commissioner and a member of Merkel's party.
"The chancellor wants us to complete monetary union," he told ZDF television on Wednesday. "It's clear that every member country, including Germany, will have to be ready to make compromises."
— With assistance by Tony Czuczka
Before it's here, it's on the Bloomberg Terminal.
LEARN MORE