Israel's Biggest Telecom Owner Is Said to Hit Snag in Bank Talks
By
Lenders are said to balk at Eurocom offer on loan arrangements

Future of Israel's Bezeq at stake as Eurocom faces liquidation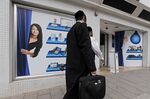 The majority owner of Israel's biggest telecommunications company is struggling to convince banks to reorganize loans and avoid a firesale of all of its holdings, according to two people with knowledge of the matter.
Eurocom Group Ltd. must pay a substantial portion of 1.4 billion shekels ($400 million) in debt before Dec. 18, said the people, who asked not to be identified because negotiations are sensitive. Failing to strike a deal will see Israel Discount Bank, Bank Hapoalim Ltd. and First International Bank of Israel Ltd. seek a court order to place the company under the control of trustees or potentially liquidate its assets, they said.
While both sides would prefer to reach an agreement to maximize returns, lenders balked at the company's latest offer and still need to agree how Eurocom's assets can be divided, the people said. Relations between Eurocom and the banks also soured in recent weeks, with lenders saying the company is acting in bad faith by avoiding requests for documents and Eurocom arguing it is adhering to all that is asked of them, the people said.
At stake is the future of Bezeq Israeli Telecommunication Corp., which Eurocom controls through a 26 percent stake it holds via a subsidiary. Tel Aviv-based Bezeq is pushing for regulatory reform that would allow it to merge its operating units, streamline costs and make its products more price competitive. Those efforts risk being undermined by Eurocom's trouble with its creditors and a securities probe into Eurocom owner and Bezeq's former chairman, Shaul Elovitch.
Eurocom Woes
The Israel Securities Authority launched an investigation into some of Elovitch's dealings, such as whether he worked with other executives to inflate the value of a 2015 merger between Bezeq and its television unit, of which Eurocom was a minority owner. 
While Bezeq pays hefty dividends, the cash never made its way up the Eurocom chain, being used instead to pay down debt in the two holding companies that sit between Eurocom and the telecoms operator. Elovitch was also dealt a blow last year when a SpaceX rocket blew up in a test launch, derailing a $285 million, all-cash deal with a Chinese buyer for one of Eurocom's units.
Eurocom came close to fully repaying the banks before the loss of its satellites in the explosion and the company hopes it will be able to reach an agreement with its creditors without court proceedings, the company said in a text message.
"Over the past few years, Eurocom Group has repaid over 2 billion shekels to the banks," the firm said. "The controlling shareholder has also poured in about 250 million shekels, and has not been receiving dividends and management fees for many years." 
Share Slump
Bezeq distributes almost all its profits as dividends, paying out 1.44 billion shekels last year despite losing market share. At 9.6 percent, Bezeq pays more than double the 12-month forward dividend yield of telecom firms with a market value above $1 billion, data compiled by Bloomberg shows.
Elovitch had to step down from his role at Bezeq, and other executives were detained, throwing the company in flux. Elovitch's lawyers have said that he will be cleared of any wrongdoing.
Bezeq is one of the worst performers on Israel's main equity index this year, with the stock falling 18 percent since the ISA announced its investigation on June 20.

"At these levels, the impact of the investigation on the stock is behind us," Liran Lublin, an analyst at Israel Brokerage & Investments Ltd., said by phone. "But foreign funds will be hesitant to invest in Bezeq, with the controlling shareholder possibly facing criminal charges. That's difficult for an investment committee to approve."
Eurocom is willing to sell some of the assets it has put up as collateral for its loans, one of the people said. The company is not yet willing to sell its Bezeq stake, preferring to keep its most-prized asset it believes is undervalued given the cash flow the business generates, the person said. 
Lenders are hesitant to accept a proposal from Eurocom that an unidentified investor inject 300 million shekels into the company -- even though the cash would go straight to them -- because regulatory approval is needed, the people said. The banks would then receive proceeds from the sale of a package of assets to cover some of the debt, with the rest being written off, they said.
Potential Buyers
Hapoalim has provisioned the majority of the 500 million shekels it lent to Eurocom as bad debt about one year ago, one of the people said. Eurocom owes 700 million shekels to Discount and another 200 million to First International, the person said. Representatives for Discount and Hapoalim declined to comment. First International didn't respond to requests for comment.
Eurocom has fielded informal interest in the Bezeq stake from potential buyers, but the company hasn't started an official tender process, one of the people said.
"Resolving this is going to take a long time, with so many creditors wanting to recoup as much of their money as possible," Lublin said. "But the bottom line is, if Elovitch goes, it will be only good for the stock."
Before it's here, it's on the Bloomberg Terminal.
LEARN MORE