Sinn Fein to Protest in DUP Leader's Hometown Over Irish Border Dispute
By and
Sinn Fein wants special status for the region after Brexit

Protest will be held where DUP leader Arlene Foster grew up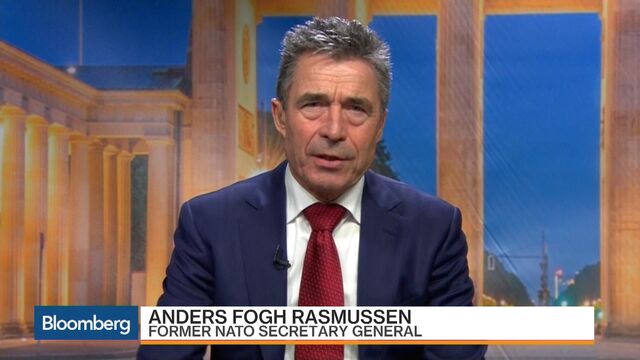 As Brexit threatens to tear up the rules that helped bring peace to Northern Ireland, those who want to protect the open border with the Republic of Ireland are taking to the streets to protest.
Sinn Fein, the party that wants Northern Ireland to be part of the Republic of Ireland, will hold a protest on Saturday in the border village of Rosslea to call for special status for the U.K. territory after Brexit. The village is the childhood home of Arlene Foster, the leader of the Democratic Unionist Party, which has rejected proposals that aim to keep the border open because they threaten to create a boundary instead between Northern Ireland and mainland Britain. 
The protest will take place right on the border between County Fermanagh in Northern Ireland and County Monaghan in the Republic of Ireland. It's near where Foster's father was shot by the Irish Republican Army when she was a child.
Why Ireland's Border Is Brexit's Stubborn Puzzle: QuickTake Q&A
Sinn Fein, which held a protest in Belfast on Wednesday, wants Northern Ireland to remain in the European Union's single market and customs union. Northern Ireland voted to remain in the referendum last year, but the biggest party, Foster's Democratic Unionists, favor Brexit and have more power than ever as they are propping up Prime Minister Theresa May's government in London.
"No one, not least the DUP, has made a credible case that the north of Ireland will be better off outside the EU," said Sinn Fein's John Finucane. "The north of Ireland should have designated special status within the EU, ensuring that we remain within the customs union and the single market," he said.
The protest comes as the Irish border issue is the main sticking point in Brexit talks. May is searching for a proposal that will satisfy the DUP and the Republic of Ireland -- which refuses to countenance any border on the island. The virtually invisible line that separates the U.K. from the Republic of Ireland now is only possible because both countries are in the single market. Foster is adamant that Northern Ireland should leave the EU on the same terms as the rest of the U.K.
Read more: Ex-IRA Man Says Brexit Threatens Economy Not Peace in Ireland
Before it's here, it's on the Bloomberg Terminal.
LEARN MORE