Intifada Call Is Noise to Israel Traders Used to Political Chaos
By and
Shekel, Israeli stocks barely moved since call to action

'We've developed the patience to let things play out': Migdal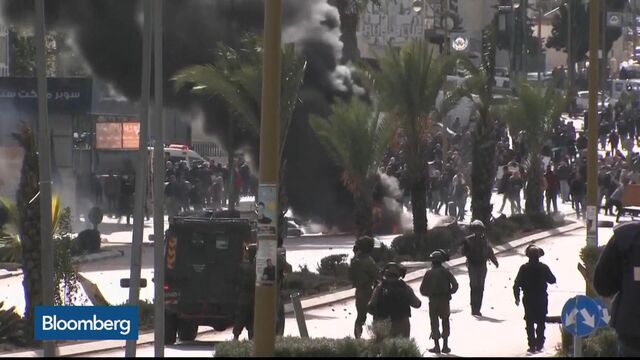 It takes a lot to faze traders of Israeli assets.
When Hamas's leader called for a third intifada against Israel, the nation's currency and stocks barely budged, even though thousands of Palestinians and Israelis died in two previous uprisings. Israeli security forces responded today by ordering additional battalions to the West Bank, but that didn't stir a reaction either because investors aren't anticipating violence that could devastate the economy, for now.
"Israelis are used to these kinds of events and we've developed the patience to let things play out," said Guy Rosen, the Tel Aviv-based head of the international desk at Migdal Investment Portfolio Management. "Violence that rises to the level that causes people to stop going to the malls and leaving their homes is what hurts the economy. For now, it doesn't look like we're headed there."
Ismail Haniyeh, who heads the Palestinian militant group that rules the Gaza Strip, called for action after U.S. President Donald Trump declared Jerusalem as the Israeli capital, an issue Palestinians and Israelis have argued over for decades. The move adds to the region's security risks, which have risen amid a boycott of Qatar by a Saudi Arabia-led coalition and a raging conflict in Yemen, where Iran and Saudi Arabia are fighting one of their proxy wars.
"All this newsflow causes exhaustion," said Marcin Lipka, a senior analyst at Cinkciarz Pl in Poland. "We end up seeing many comments, lots of analysis on the potential impact, but we see actually very little market reaction. It's hard to see how things are going to evolve from where we are standing now."
The shekel was little changed at 3.5165 per dollar as of 2:18 p.m. in Tel Aviv, while its one-month implied volatility fell. The TA-35 Index of stocks declined 0.2 percent, extending its drop to a fourth day.
Before it's here, it's on the Bloomberg Terminal.
LEARN MORE