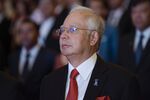 With Malaysia gearing up for a general election in 2018, Prime Minister Najib Razak is preparing the ground. It's been an uncomfortable few years, with headlines swirling about a scandal over the finances of a state fund and unhappiness over rising living costs. But Najib will address an annual conference of his ruling United Malays National Organization today arguably in his strongest position politically since retaining power in the 2013 election. The economy is picking up and his critics in the party have been expelled. That's boosted the prime minister's chances of staying in office and extending the party's uninterrupted run of more than 60 years in power. The coming days will indicate just how strongly the party's grassroots have unified behind him as well as provide possible clues about the timing of the election.
1. When will the election take place?
Najib gets to decide. The constitution determines that it must be held by August, but the strongest speculation is that it will be held after the Chinese New Year in February and before the Muslim fasting month of Ramadan starts in May. Najib, 64, became prime minister in 2009 and led the ruling coalition to victory at the 2013 elections, though the alliance won with its lowest number of parliamentary seats and lost the popular vote for the first time.
2. Why might he hold it sooner rather than later?
The opposition is in disarray. It's been fractured by infighting since the jailing in 2014 of Najib's fierce critic, Anwar Ibrahim, for sodomy. Anwar has denied the charges, saying they are politically motivated. His lawyer said he's scheduled to be released from prison in June, so Najib's best chance would be to call the election before Anwar is free and able to unite the opposition once more.
3. What is this week's meeting?

For 44 years, Malaysia has been governed by the coalition known as Barisan Nasional. UMNO, whose president is Najib, is the most influential of the 13 parties that form the alliance. UMNO is holding its five-day annual gathering in Kuala Lumpur through Saturday, debating policies and assessing the performance of the 57-member Supreme Council headed by Najib. Besides party leaders, representatives from each state and party wing will take turns giving speeches on issues ranging from the economy to religion.

4. Why is it important for Najib?
The assembly is Najib's foremost chance to drum up support from the party's 3.4 million members (more than 10 percent of the country's population) and to galvanize them into campaigning for the election at the grassroots level. The assembly will also indicate whether Najib has UMNO's full backing. Delegates have in the past defended him over the 1MDB scandal but questioned the country's rising living costs. With one motion calling for no contest in the next party poll for president and his critics long ousted from UMNO, Najib is likely to emerge stronger than ever.
5. Has 1MDB affected Najib's chances?

Probably not. U.S. investigators allege $3.5 billion went missing from the state investment fund that was set up by Najib. But a Malaysian inquiry cleared Najib of wrongdoing and the premier hasn't been identified as a target in any of the other multiple probes.
6. What else to watch for at the meeting?
Look out for Najib's speeches at the beginning and the close. As well as possible hints about the timing of the election (last year he said "soon"), his demeanor should give an indication of his confidence levels after a bruising few years. He's also known to make major policy announcements, such as when he dropped his pledge to repeal a law curbing free speech. Also take heed of speeches from those representing states now held by the opposition; their tone may reflect UMNO's chances of wresting control.

7. Why the emphasis on race and religion?
UMNO was set up to champion the needs of ethnic Malays, who make up about 69 percent of the population. (Chinese are 23 percent and Indians 7 percent). This translates to a meeting focused entirely on issues that concern them, including their religion, Islam. Last year, Najib warned that Malays would be "beggars" in their own lands and that Islamic institutions would fall should the opposition take over. He's expected to strike a more conciliatory tone this time, as he seeks a balance between appealing to the Malay community and the country at large.
8. What's at stake economically?
Najib is expected to address public complaints about the cost of living, jobs and wages. He may also announce more goodies for his core audience. At the 2015 assembly, Najib maintained that the unpopular goods and services tax -- introduced earlier that year -- was needed to prevent economic collapse. He had also said Malaysia was unapologetic in defending its pro-Malay affirmative action policies. In 2014, he announced that he and his colleagues would meet at least once every month to discuss Malay economic empowerment. Since the 2016 meeting, the economy and the ringgit have strengthened, productivity has risen and income inequality has fallen.
The Reference Shelf:
Before it's here, it's on the Bloomberg Terminal.
LEARN MORE