Democrat Warns GOP Has No Excuse to Cut Spending After Tax Bill
By
Revenue losses could hamper antiterror fight in Africa: Engel

Engel 'won't accept' lack of funding excuse for soft power cut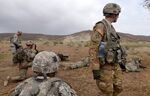 A prominent House Democrat warned that lack of money can't be an excuse for Republicans to cut spending on diplomatic and soft power funding to Africa, after the House and Senate passed tax plans that could cost $1 trillion or more in revenue over the next 10 years.
Representative Eliot Engel, top Democrat on the House Foreign Affairs Committee, said revenue cuts from the GOP-backed tax plan could hinder U.S. attempts to promote democracy, foster human rights and prevent terrorism in Africa. The ongoing U.S. military presence on the continent, often overlooked given more visible conflicts in Afghanistan and Syria, was brought into sharp focus following an October ambush in Niger that killed four Americans.
"What I don't want to hear, and what I won't accept, is that we can't afford it," Engel, of New York, said during a committee hearing on the U.S. military effort to fight extremism in Africa. "The president's ready to sign legislation that will blow a trillion-and-a-half-dollar hole in the budget to give tax breaks to corporations and billionaires, so the 'can't afford it' line doesn't pass the test anymore."
Engel also said Congress needs to consider updating the 2001 authorization for the use of military force used as the basis for the war on terror, a measure he said has been used as a "blank check." Committee Chairman Ed Royce said anti-terror efforts across the globe are being conducted under a patchwork of authorizations. 
"I don't think any of us who voted on that issue - and I did 16 years ago - envisioned that it would be used as a blank check to justify sending our men and women in uniform into harms way whenever a terrorist threat emerges," Engel said.
House and Senate GOP leaders are trying to hammer out compromise tax legislation for Trump to sign before the end of the year. No Democrats supported the tax bill in either the House or Senate.
Before it's here, it's on the Bloomberg Terminal.
LEARN MORE