Germany's SPD Backs Talks in Signal of Possible Coalition
By and
Majority of SPD delegates voted in favor of resolution

No details on what form an alliance with Merkel would take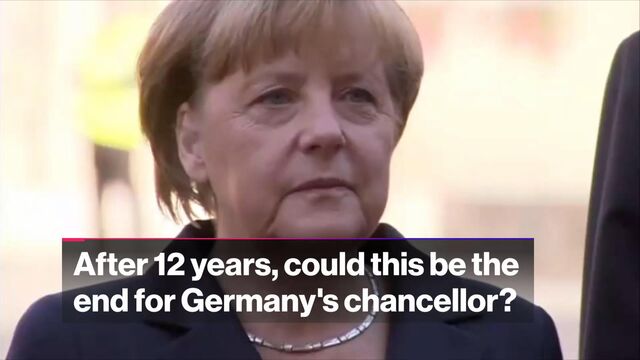 Germany's Social Democratic leaders secured an endorsement from the restive party base to begin talks with Chancellor Angela Merkel, the strongest signal yet that the SPD will consider a re-run of a governing coalition with her.
SPD delegates gathering for a three-day conference in Berlin voted with a sizable majority for a resolution allowing SPD Chairman Martin Schulz to undertake talks with Merkel. The motion didn't specify what form an alliance would take, with many in the base rejecting a renewed coalition in favor of supporting a minority government.
"We don't have to govern at any price, but we also can't reject governing at any price," Schulz told the party conference in a 75-minute speech earlier in the day. "What's decisive is what we're able to implement."
As the threat of a repeat election hangs over Europe's biggest economy, the three-day convention was the first step in a possible alliance with Merkel 10 weeks after the SPD initially swore off re-establishing a coalition with her Christian Democratic-led bloc. Schulz vowed to move forward with negotiations only if SPD priorities, such as a more integrated Europe and more public investment, are agreed to.
Schulz, whose appointment as party leader at the beginning of the year led to a surge that gave way to a series of electoral losses, was re-elected party chairman by 82 percent of delegates. 
Thursday's vote was a first hint of the SPD's grass-roots sentiment and Schulz's ability to shape events in the weeks ahead. Delegates voted by hand with a "large" majority, Niels Annen, an SPD executive member who counted the votes, told the conference in approving the motion. There was no fixed percentage of the vote.
The anti-Merkel faction of the party was led by the SPD youth organization, whose leader Kevin Kuehnert said the party was stuck in a "deep crisis of trust" and couldn't rebuild if it opted for a coalition with Merkel for the third time in 12 years.
"The renewal will take place outside a grand coalition, certainly not inside it," Kuehnert told the delegates.
Malu Dreyer, the SPD premier of the western state of Rhineland-Palatinate who has said the best way forward is a minority government, still urged delegates to support the resolution.
An argument against supporting a minority government came from Gesine Schwan, a one-time SPD presidential candidate from the party's left. The SPD would "be involved, without being able to shape anything," she said.
"Open-ended" Talks
But most speakers at the convention spoke in favor of "open-ended" talks with Merkel, whom many said has emerged weakened even after her election victory on Sept. 24.
"We're not giving anything away," Andrea Nahles, the party's leader in parliament, said. "We need to have tough talks with them."
The Social Democrats have engaged in a round of soul-searching after Schulz's initial rejection, a reaction to the party's worst result since World War II. At the same time, he told delegates "there's nothing automatic" about joining Merkel in a grand coalition.
Pressure shifted to the SPD after Merkel's coalition talks with the Free Democrats and the Green party collapsed on Nov. 19. Within days, Schulz eased off his position, prodded by many in the party base as well as President Frank-Walter Steinmeier, a Social Democrat now pledged to a nonpartisan role, who called on all parties to face up to their obligation to voters.
Ending the political deadlock could take months. If Thursday's motion passes, Merkel and Schulz would be expected to meet as early as next week, with exploratory talks possibly starting in December.
Another party conference would have to clear the way for formal coalition talks, possibly in January, which would take several weeks. Ultimately, any coalition pact would be put to a nationwide vote by party members, a scenario that means Merkel's new term might only begin in March.
Before it's here, it's on the Bloomberg Terminal.
LEARN MORE