politics
Erdogan Begins First Greek Trip With Awkward Treaty Exchange
By and
Turkish leader says Treaty of Lausanne can be 'updated'

Greece rules out any changes to treaty, status quo in Thrace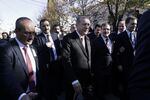 Turkish President Recep Tayyip Erdogan got off to a rocky start on his first visit to Greece Thursday, drawing a rebuke from Athens for suggesting they revisit a treaty that has defined the neighbors' relations for almost a century.
The government in Ankara wants a revision of the Treaty of Lausanne, the 1923 pact that defines the border of the Turkish state and the rights of religious minorities, Erdogan said. His visit -- the first by a Turkish head of state in 65 years -- should serve as a starting point for both countries to "look at the future" and deepen relations, he said.
The suggestion to revise the treaty by Erdogan drew quick retorts from Greece's prime minister and president who said it could not be changed. Ties between the fellow NATO-member countries have frequently been strained by competing claims of islands and resources -- as well as how to handle refugees -- in the eastern Aegean. Erdogan has also drawn criticism from some leaders in the European Union, of which Greece is a member, for what they say is backsliding on democracy.
While it's important to modernize relations between Greece and Turkey, that can only happen through the mutual respect of international law and "the foundation stone of our relations, the Treaty of Lausanne," Greek Prime Minister Alexis Tsipras said during a press conference with Erdogan in Athens. "In 2017, we can't have a casus belli hanging over our relations."
Greek authorities increased security measures and put the capital in lockdown during the visit, shutting the main streets around parliament and Syntagma Square, the site of violent protests during the height of the Aegean state's debt crisis. Erdogan and Tsipras put protocol aside during their joint news conference, sparring back and forth during a Q&A session over the politically sensitive issues of the treaty and the reunification of Cyprus.
Treaty Update
The treaty, signed by Greece, Turkey, and other countries that fought in World War I, also led to a large population exchange based on religion and included terms under which the remaining minorities of Muslims in Greece's Western Thrace and Christians in Istanbul continued to live and function.
Erdogan complained that the Muslim population of Western Thrace is still unable to elect its own religious leader, whereas the Turkish government has provided help for the election of the Greek Orthodox Patriarch based in Istanbul. He said ethnic-Turkish citizens in Western Thrace are discriminated against.
Before meeting Greek President Prokopis Pavlopoulos, Erdogan said "treaties can be updated if parties agree." But he later said there were no issues of "territorial integrity," insisting at the news conference with Tsipras that "neither me nor my friends have brought up such an issue anywhere."
The Turkish leader criticized what he called "provocations" against his planned visit to Komotini in Western Thrace on Friday, urging Greek authorities to prevent disruptions.
— With assistance by Taylan Bilgic, Paul Tugwell, and Marcus Bensasson
(
Updates with Erdogan comment in eighth paragraph.
)
Before it's here, it's on the Bloomberg Terminal.
LEARN MORE