Dogged $4 Billion Investor Is Sticking to Shale
By and
Shale producers have potential for bigger growth: Reynolds

Van Eck fund's top picks include Parsley, Newfield, Concho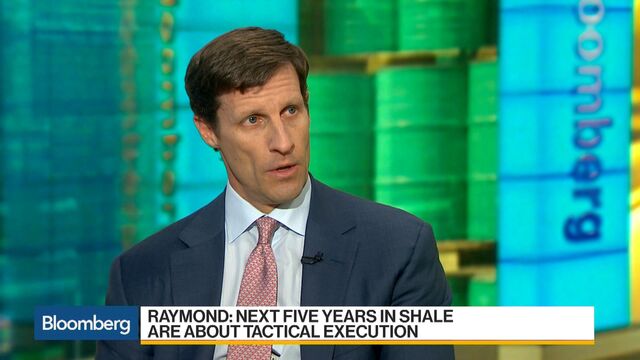 Shawn Reynolds is sticking to shale, with the $4 billion fund manager unshaken in his resolve that the U.S. industry's stocks are due for a rebound after a lackluster 2017.
The veteran energy investor, whose main $2 billion fund holds about half its assets in energy and oil-services stocks, says American shale producers are now due to reap profits after years of overspending. The companies have more potential to grow compared with conventional explorers as they face fewer risks related to the extraction of resources, the fund manager at Van Eck Associates Corp. said. 
"There's justification for a re-rating," said New York-based Reynolds during an interview in Singapore last week. "I know this shale model deserves a higher valuation than the older conventional exploration model."

Reynolds's faith in shale companies is being reflected in the firms' plans. While crude is trading near a two-year high after last week's agreement by OPEC and its allies to extend output curbs, executives from three of the biggest independent U.S. drillers said they won't increase activity just because of higher prices. In years past, they routinely outspent their cash flow by 20 to 30 percent in an attempt to grow production as fast as possible.
Discipline and Profits
The emphasis now will be on maintaining spending discipline and generating profits to return to investors, according to Pioneer Natural Resources Co., Parsley Energy Inc. and Newfield Exploration Co. That helps pare concern that drillers will boost production and repeat the biggest oil crash in a generation, which began in 2014 as an American shale boom spawned a race for market share between global producers.
Shale explorers and producers are going to be the biggest beneficiaries of the industry's transition to higher returns while being more disciplined, which is why the fund plans to maintain a large exposure to the group, according to Reynolds. Drilling companies and oil-service providers will also benefit, he said.
"With shale, you have incredible visibility on growth, possibly the best visibility of any industry in the entire market, and lower risk," said Reynolds, whose previous roles included stints at Goldman Sachs Group Inc. and Credit Suisse Group AG. "The geological risk of shale is virtually basically null."
Less Risk
The geological risk refers to the process by which oil and gas is extracted, and the likelihood of reaching the hydrocarbons. In fracking of shale fields, producers can make relatively accurate predictions of where resources are trapped underground before drilling vertically and horizontally through fuel-bearing rocks with the help of high-pressured water. The turnaround period is estimated at about 12-18 months.
That's in contrast to older and conventional models of exploration that take at least five years, with companies having to borrow millions of dollars to study land formations and drill a well, hoping to hit oil and gas.
Goldman Sachs echos Reynolds's view that U.S. shale drillers may be ripe for the picking, though for differing reasons. Many companies could be takeover targets as energy stocks have lagged about 40 percent behind crude oil futures this year, enabling buyers to get cash returns of as much 4 percent in 2020 even if they pay a 30 percent premium, the bank said.
Reynolds is holding firm in his belief of a shale share revival despite his main fund, Van Eck Global Hard Assets Fund, losing 11 percent this year through Thursday. Five of its 10 biggest holdings posted a loss during the period, ranging from 1.4 percent to 27 percent, while gains range from 22 percent for Glencore Plc, to 4.2 percent for Concho Resources Inc.
His top shale picks -- Parsley Energy, Pioneer Natural Resources and Newfield Exploration as well as Concho Resources, Cimarex Energy Co. and RSP Permian Inc. -- are down as much as 29 percent this year through Thursday, with just Concho posting an increase. For this quarter, Pioneer, Concho and RSP have gained, while oil has added 10.5 percent in New York.
"There's a real ability to pick the winners versus the losers in this environment," Reynolds said. "You can look at who has the best technology, who has the best sweet spot, and who's focusing on returns, not just growth."
— With assistance by Dan Murtaugh, and James Mayger
Before it's here, it's on the Bloomberg Terminal.
LEARN MORE