Argentine Judge Calls for Arrest of Ex-President Fernandez
By
Judge Bonadio calls on Congress to remove Fernandez's immunity

Fernandez accused of attempted cover-up in 1994 bombing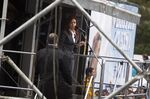 An Argentine judge called on Congress to strip former President Cristina Fernandez de Kirchner of her immunity as a senator so she can be arrested after bringing charges of treason, aggravated concealment and obstruction against her.
Fernandez is accused of trying to cover up Iran's involvement in the 1994 bombing of a Jewish community center, known as AMIA, in Buenos Aires in exchange for favorable trade deals. The original case was brought by prosecutor Alberto Nisman who was found dead with a bullet in his head the day before he was scheduled to present his evidence to Congress. Nisman's case was rejected by another judge before being revived by Claudio Bonadio.
Fernandez and members of her government "betrayed traditional and historical national interests and those of the people affected by the attacks" and looked to "gain impunity for Iranian citizens accused in the attack on the AMIA headquarters and to normalize relations between both states," Bonadio wrote in a 491-page complaint.
Fernandez and her former ministers are facing charges of corruption on several fronts, with a series of arrests in recent months, leading to accusations from her camp of collusion between President Mauricio Macri's government and judges. Former Vice President Amado Boudou was detained last month on allegations of illicit enrichment involving a money-printing company, while former Planning Minister Julio De Vido is awaiting trial in jail after the lower house of Congress voted to remove his immunity. Fernandez is already set to stand trial in another case led by Bonadio for alleged fraud in dollar futures trading.
'Absurd'
The attack on the Jewish community center killed 85 people and injured a further 150, making it the deadliest bombing in the country's history.
"The treason accusation has no foundation and is an insult to Argentines' intelligence," Fernandez said in a press conference in Buenos Aires Thursday. "They want to shut me up before I start in Congress next week."
Unlike De Vido's case, the government will struggle to muster the two-thirds majority it needs to remove Fernandez's immunity because Macri's alliance has less seats in the Senate than in the lower house.
A vote on stripping her immunity "would be gifting her victimization," said Javier Zelaznik, a professor in politics at Torcuato Di Tella university in Buenos Aires. "There's going to be a lot of noise, but the result will be that she will continue in the Senate."
— With assistance by Carolina Millan
Before it's here, it's on the Bloomberg Terminal.
LEARN MORE