Argentine Billionaire Made by Macri May Be Undone by Him, Too
By
Jorge Brito tied to graft scandal involving ex-vice president

President's new plea-bargain law threatens to snag banker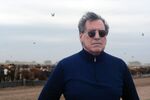 Jorge Horacio Brito became a billionaire thanks to President Mauricio Macri's efforts to revive Argentina's economy. Now, those same policies have put Brito's future, and that of his business empire, in question.
The former chief executive officer of Banco Macro SA has been pulled into a widening scandal that has seen former Argentine Vice President Amado Boudou charged with illicit enrichment for allegedly using shell companies and secret middlemen to gain control of a company given contracts to print the national currency. Brito has been identified as one of those middlemen in testimony.
The testimony was made by a businessman under Argentina's new plea-bargain law, which allows sentences to be reduced -- though not abolished -- for those who help solve corruption cases. The law was pushed by Macri to bring transparency to the notoriously opaque confluence of money and politics among Argentina's ruling classes.
"All the partners in crimes committed during the last decade will go to jail," Macri said in August.
Brito has denied wrongdoing and hasn't be charged. On Nov. 27, he delivered a written declaration to federal court saying he's willing to cooperate in the case and appear at court anytime. He declined to comment for this story. Presiding Federal Judge Ariel Lijo didn't comment during Brito's court appearance and is continuing to take testimony.
Ciccone Calcografica
Banco Macro's board accepted Brito's request for a leave of absence as chairman on Nov. 21, the same day Brito was summoned for questioning in court. The bank's shares tumbled more than 20 percent in November, and the biggest deal of Brito's career -- the acquisition of Banco Patagonia SA from Banco do Brasil SA, valued at $1.8 billion -- which had already been on the rocks, now looks even less likely.
The growing scandal, referred to as Boudougate, revolves around the 2010 purchase of the bankrupt printing company Ciccone Calcografica SA by a Netherlands-based investment vehicle known as The Old Fund. Boudou, who was economy minister at the time of the acquisition, has been accused of being a secret owner behind The Old Fund and of abusing his power by helping to get tax breaks for the company's restructuring. 
Televised Arrest
Boudou, former President Cristina Fernandez de Kirchner's vice president from 2011 to 2015, was arrested on Nov. 3, with local television stations showing video of him handcuffed and being taken into in custody. Judge Lijo considers Boudou a threat to obstruct the investigation, court documents show. Boudou has denied wrongdoing, saying his detention is biased and politically motivated.

The company that Boudou allegedly used to acquire the printer moved funds through Banco Macro accounts, court documents show. Brito hasn't been declared a suspect in the case, and in 2013 he wrote to the judge saying he is willing to cooperate with the investigation.
Banco Macro has always fulfilled its anti-laundering responsibilities and never received an alert from the regulator, the lender said in an emailed statement. A Macro spokesman declined to elaborate further.
Secret Testimony
Brito's situation changed in mid-November when Alejandro Vandenbroele, Boudou's alleged partner at Ciccone Calcografica, submitted to 10 hours of secret testimony under the new plea-bargain law. According to two court clerks who said they have seen the 25 pages of testimony, Vandenbroele admitted his involvement as a front for Boudou.
Vandenbroele also testified that Brito has been paying his lawyer's bills and sends him a monthly stipend, according to the clerks, who asked not to be named speaking about a private matter. If such evidence is accepted as likely to be true by Lijo, the judge could seek the preemptive arrest of Brito for obstruction of justice.
A representative for Brito said there is no evidence against him and that the alleged testimony is baseless.
Brito, who started his career in the 1970s with a $5,000 loan from his mother, later took advantage of political ties with governors from North Argentina provinces to become financial agent for those state treasuries. He bought Banco Macro in 1985 and began snapping up lenders in a consolidation that culminated in a 2006 listing on the New York Stock Exchange. Brito owns a 17 percent stake in the bank.
Raising Cattle
Brito began raising beef in the 1990s as a hobby, he said in a September interview, eventually building Inversora Juramento SA into an 87,414-hectare (216,000 acre) ranch on which he breeds 70,000 head of Brangus and Bradford cattle. His 91 percent stake in the beef producer has a market value of $225 million.

Though Macri's market-friendly policies started in December 2015 have been a boon for both Banco Macro and Inversora Juramento, Brito -- who described himself as a longtime Peronist, the populist party founded by Juan Peron -- said at the interview at his ranch that he hasn't been able to build a relationship with Macri, whose Cambiemos coalition swept the Peronists out of power.
"We all need a seat at the same table to have a dialogue about the future, and put an end to this long history of conflicts," Brito said at the time, declining to elaborate on his relationship with Macri.
At Odds
An adviser to Brito said the banker and the president were at odds because Brito didn't contribute to Macri's electoral campaign. Brito also suspected Macri's intervention in his failed attempt to buy Banco Patagonia, said the adviser, who asked not to be identified because the matter is private. The Argentine Central Bank, led by a Macri party member, is the regulatory body that must approve deals in the banking sector.
A spokesman for Macri said the president reiterates that all those who are sentenced by the court will serve their time. He declined to elaborate further on Macri's alleged political motivations.
Even as Banco Macro's shares trade near three-month lows, Buenos Aires-based brokerage Puente Hermanos said it is keeping its recommendation on the bank, for now.
"No public document shows the bank has been involved in any wrongdoing," Juan Manuel Vazquez, head analyst at Puente Hermanos, said in an interview on Nov. 24. "If any unknown information surfaces, we will promptly change our view in accordance."
Local investors seem likewise unfazed about the future of Brito's businesses. Inversora Juramento, which was looking to sell as much as 72 million shares between 7 pesos to 16 pesos per share in a follow-on sale, agreed on Wednesday to sell 63.3 million shares at 11.5 pesos each. Banco Macro, which organized the sale, jumped more than 7 percent after Santander upgraded the stock to hold and raised its 2018 price target.
— With assistance by Charlie Devereux
Before it's here, it's on the Bloomberg Terminal.
LEARN MORE