Small Business
Argent Is Filling the Gap in Affordable Women's Workwear
Combining style and function, the startup is reaching young buyers online and at conferences.
By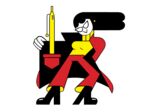 When Christel Clevenger attended a conference last year for executive women in Silicon Valley, the last thing she expected to do was shop for clothes. But between presentations, while strolling through the exhibition area, she noticed "a beautifully tailored, navy check blazer" hanging from a rack in one booth. It was made by Argent, a brand she'd never heard of. She began trying on some items and quickly purchased a blazer, a shirt, and a pair of pants.
"They remain some of my go-to pieces," says Clevenger, who's in her 40s and a senior program manager at a large software maker. She continues to shop at the mostly online retailer of women's workwear. "Their clothes break away from the boring professional clothing found in department stores," she says. "Plus, they're well-made and travel easily."
Argent is among more startups providing affordable, contemporary clothing for women of all ages and sizes. "There's been much more of a push of casual leisure than career clothing by retailers, so there's a shortage of options for professional women," says Simeon Siegel, executive director at Nomura/Instinet Equity Research, who follows the retail industry. "And while behemoths like Amazon are growing," he says, there's room for small businesses as midsize companies such as Talbots Inc. and Ann Taylor parent Ascena Retail Group are closing stores.
Argent is all about combining style and function. Its founders—Sali Christeson, 31, a former cloud services manager at Cisco Systems Inc., and Eleanor Turner, also 31 and a former designer for Tory Burch and J.Crew—started the brand in 2016 after concluding most women's workwear was dowdy and outdated. Before producing their initial collection, they analyzed how they typically spent time at their offices, moving from meeting to meeting and carrying handbags weighed down by cellphones, cosmetics, and other items. "We decided to engineer what women today need right into each piece of clothing," says Turner, the chief creative officer.
The brand's Crossover blazer, which retails for $325, has a media pocket for a phone and additional pockets for items such as pens or lipstick. Blazers are designed so women can thread their earbuds through the sleeves. Most of the brand's trousers, which sell for $198 to $248, have a loop on the belt line where a corporate ID can be attached and a hidden back pocket for credit and metro cards. Some pants and blazers are reversible, giving women two outfits for the price of one. Most items can be worn year-round.
"There's hardly anything compelling in fashion right now," Bill Dreher, a retailing analyst at Susquehanna Financial Group LLP, says of the $41 billion market for women's apparel. "But if you offer convenience and value, and combine that with high-tech fabrics and other high-tech elements, the product sells itself."
Argent has raised $1.5 million from angel investors. Christeson, the chief executive officer, won't reveal sales figures. Argent sells online and at about one women's conference a month and at networking events. It has set up pop-up stores in San Francisco and Washington. Most clothing is manufactured in New York, near Argent's showroom, so the company can quickly make samples and oversee production.
One hurdle is getting inventory right. Argent often runs out of styles in certain sizes. While common among small apparel makers, it's a problem for a brand premised on making shopping easier for the time-starved. Customers who don't find the item they want in their size may be reluctant to come back. "We can't always keep up with demand," Turner says.
Other rapidly growing startups include MM.LaFleur Inc., which expects sales this year of $70 million. The company started in 2013 with seven dresses. It offers more conservative fashions and plus sizes for women who've had few workwear choices.
Even globally, startups founded by women are addressing the gap in the market for women's office attire. In Delhi a former McKinsey & Co. consultant last year launched FableStreet, which has raised angel funding to expand in India. In London, the Fold is an e-commerce luxury apparel line started by a former finance executive.
"Women in their 20s, 30s, and 40s climbing the ladder need to look polished and put-together to keep advancing, but they can't spend $1,000 on a luxury suit, and they don't want to spend their precious spare time shopping," says Carol Hochman, former CEO of Danskin and a former executive group president at Liz Claiborne. "These startups fill a big hole in workwear at this price point."
Talia Kennedy, a millennial manager at a tech company near San Francisco, has been wearing Argent's clothing every day for the past year. Argent offers "a fresh take on what a woman at work should look like," she says. "The brand has soul."
BOTTOM LINE -
Argent is one of several e-retailers filling a hole in the market for women's attire with stylish workwear.
Before it's here, it's on the Bloomberg Terminal.
LEARN MORE