Vanguard's Bogle Urges Rivals to 'Come On In, the Water's Fine'
By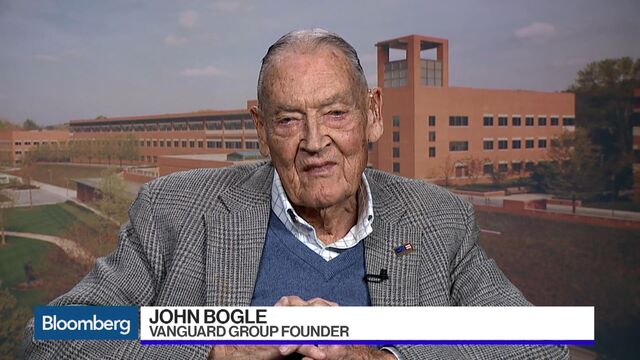 Call Jack Bogle the accidental emperor.
You'd think the founder of Vanguard Group, one of the two biggest money managers in the world along with BlackRock Inc., would be happy with that title. But Bogle, 88, who's widely regarded as the father of the index fund, insists he didn't intend to create an empire.
"I was never in this business to build a colossus, but as I have told people many times, I was too stupid to realize if we gave investors the best deal they would ever get, I'd be building a colossus," Bogle said in an interview on Bloomberg Television on Wednesday. "And so here we are, on the way to a 25 percent market share of mutual fund assets -- something that no one has ever achieved."  
This concentration of cash worries him. BlackRock and Vanguard are less than a decade from managing a total of $20 trillion, according to Bloomberg News calculations. Bogle said there's "no guarantee" that this projection is correct since any number of things could happen to derail the growth. But the figure demonstrates the lack of competition in asset management, which limits choices for investors.
"I wish there were more competition, to be honest with you," he said. "State Street is trying, but for some reason the numbers would suggest they're not succeeding very well. So what used to be an oligopoly, really of the three of us -- Vanguard, BlackRock and State Street dominating the index field -- is pretty much becoming a duopoly."
To others in the indexing business, Bogle has an inviting message.
"I say come on in, the water's fine" he said. "I wish people would compete, but it's a tough business to compete in." 
Quotes from this Article
Before it's here, it's on the Bloomberg Terminal.
LEARN MORE