U.S. Bomber Flies With Japanese, Korean Jets in Show of Force
By
B-1Bs flew farthest north of the DMZ this century in September

North Korea said then it had right to shoot down U.S. aircraft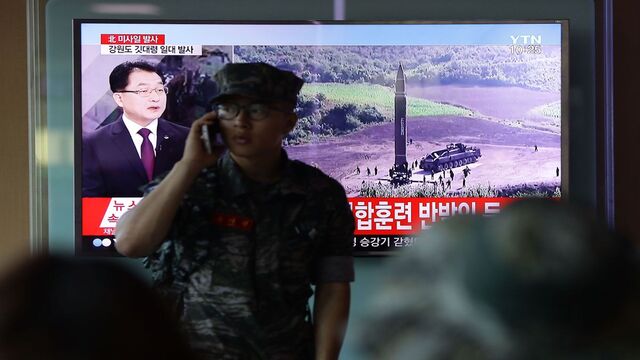 The U.S. deployed a B-1B Lancer bomber to the Korean peninsula Wednesday as part of a joint exercise with South Korea involving 230 warplanes, Yonhap News said, citing an unidentified source.
A similar drill in September saw the aircraft fly the farthest north of the Demilitarized Zone, or DMZ, of any U.S. fighter or bomber in the 21st century. This prompted Pyongyang to say it had the right to shoot down U.S. strategic warplanes in international airspace as part of its right to self-defense under the United Nations charter.
The U.S. Pacific Air Forces spokeswoman Lori Hodge said the bomber first flew from Guam to the west of Japan, where it integrated with two Japanese F-15 fighters. It then joined the Vigilant Ace drills on the Korean peninsula, where it flew with other U.S. and South Korean aircraft.
"The U.S. and its regional allies and partners have long conducted routine exercises to maintain readiness and demonstrate the strength of their alliances," Hodge said. "Building strong relationships and promoting allies and partners' capacity for security ensures effective U.S. presence and demonstrates our regional commitment."
The long-range, multi-mission supersonic aircraft would conduct bombing drills with South Korean fighter jets, Yonhap said earlier. The drills involve 230 aircraft and 12,000 American troops, in what North Korea has dubbed the largest-ever joint aerial exercise.
Retaliation Threat
North Korea, which last week launched a new type of intercontinental ballistic missile, said ahead of the drills that it would consider the "highest-level hard-line countermeasure in history," according to the state-run Korean Central News Agency. It referred to a similar statement in September, which Foreign Minister Ri Yong Ho said may include a ground-level test of a hydrogen bomb in the Pacific Ocean.

North Korea regularly cites military drills around the peninsula as justification for its nuclear and missile-testing program. The isolated regime on Nov. 29 launched an ICBM with improved technology that it said can deliver a nuclear warhead anywhere in the U.S, and claimed it had completed its nuclear force.
On Tuesday, a senior United Nations official began a four-day visit to the isolated state for talks with Ri and other officials. Under-Secretary-General for Political Affairs Jeffrey Feltman isn't taking a message from the U.S., State Dept spokeswoman Heather Nauert told reporters in a briefing.
Before it's here, it's on the Bloomberg Terminal.
LEARN MORE