Trump Travel Ban, Back in Action, Faces More Court Showdowns
By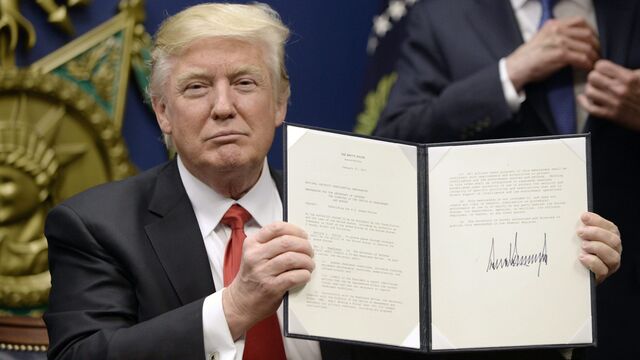 Days after the U.S. Supreme Court ordered temporary enforcement of President Donald Trump's travel ban, challengers are heading back to court in last-gasp attempts to stop it.
Hawaii will get what may be its last crack at persuading the Ninth Circuit Court of Appeals to block the travel restrictions at a hearing set for Wednesday in Seattle. Arguments before the Fourth Circuit Court of Appeals are set for Friday in Richmond, Virginia. Whatever the judges rule, the president's directive will remain in effect until the Supreme Court says otherwise.
The ACLU and individual states trying to upend the travel ban are expected to make arguments similar to those they used against previous iterations of Trump's policy -- that it's rooted in the president's own religious bias, reflected in statements he made on the campaign trail and in a recent Twitter storm. Courts have ruled that the executive order violates the Immigration and Nationality Act and the U.S. Constitution's prohibition on government actions favoring one religion over another, while also causing economic harm to states and local businesses.
The Supreme Court's Monday decision to allow full and immediate enforcement of the travel ban while the litigation plays out indicates the top court may ultimately uphold the travel restrictions.
The Justice Department has argued the latest iteration was issued only after national security officials thoroughly reviewed vetting procedures on a country-by-country basis. Travel ban 3.0 also adds three countries to the president's list, including Venezuela and North Korea, both of which aren't majority-Muslim, in what appears to be a bid to insulate the president from accusations of religious animus.
Before it's here, it's on the Bloomberg Terminal.
LEARN MORE