NFL's Roger Goodell Signs Five-Year Extension, Ending Feud With Jerry Jones
By
Extension is worth up to $200 million if incentives are met

Cowboys owner Jerry Jones wanted more incentives in contract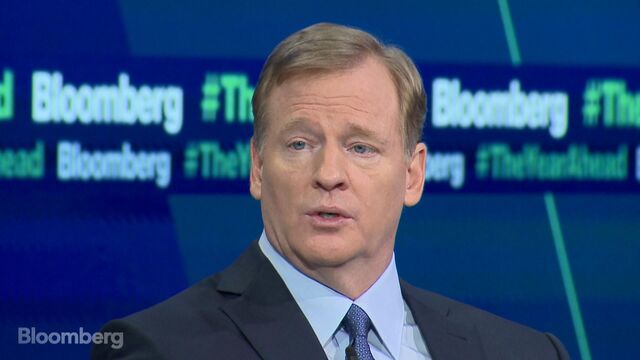 The National Football League's compensation committee has approved Commissioner Roger Goodell's new contract, ending an unusually public feud with Dallas Cowboys owner Jerry Jones.
The committee approved the five-year extension Wednesday, and Goodell signed it. The agreement is worth as much as $200 million, though much of the pay is linked to financial targets and other incentives, according to the New York Times.
Jones, who isn't a member of the six-person committee, had wanted an even more incentive-based contract for Goodell, citing in part the commissioner's inability to quell player protests during the National Anthem. Jones at one point threatened to sue his fellow owners over the matter, a stance he later dropped.
The dispute between the commissioner and Jones stems from Goodell's decision to suspend Cowboys running back Ezekiel Elliott, who had been accused of domestic violence by a former girlfriend. The player received a six-game ban, though no charges were filed.
Dallas has lost three of its past four games, falling to 6-6 on the season.
Atlanta Falcons owner Arthur Blank, who chairs the compensation committee, in a letter to fellow owners said Goodell's pay is "fully consistent with market compensation." The letter wasn't specific.
Goodell's salary was about $32 million in 2015, the last year for which compensation for top league officials was made available in a tax filing. The league's central office in 2015 became a taxable entity, meaning the league no longer had to disclose the salaries of top executives.
The NFL is the most-watched U.S. sports league, generating about $14 billion in annual revenue.
Quotes from this Article
Before it's here, it's on the Bloomberg Terminal.
LEARN MORE