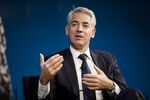 Billionaire investor Bill Ackman's audacious partnership with Valeant Pharmaceuticals International Inc. to make a hostile bid for drug company Allergan Inc. in 2014 brought him a windfall of more than $2 billion even though it failed. It also led to a lawsuit by Allergan shareholders accusing Ackman of illegal insider trading. In a last-ditch bid to avoid a trial, Ackman plans to argue to a federal judge on Dec. 8 that no rules were broken and the suit should be tossed. The outcome may help clarify some of the hazier parts of insider-trading rules.
1. What do the rules say?
The takeover bid, which started out as a merger proposal, later turned into what's called a tender offer, in which the buyer goes directly to the target's shareholders rather than negotiating with the company's board. The U.S. Securities and Exchange Commission prohibits trading on the basis of material, nonpublic information concerning such an offer, specifically when "substantial steps" have been taken to initiate it. The key question before U.S. District Judge David Carter is whether Valeant and Ackman were already working on a tender offer before Ackman quietly started buying up Allergan shares in late February 2014. The attempt fell apart when Allergan agreed to be bought by Activis Plc for just over $70 billion. But Ackman made a mint from his 10 percent stake in Allergan. Investors say he and Valeant knew their interest would spawn a bidding war, so they'd been tricked into selling shares too cheap.
2. What are 'substantial steps'?
The SEC doesn't define it but gives examples, including formulating a plan or arranging financing for a tender offer. In an earlier, related lawsuit, Carter noted that a buyer can make substantial steps toward a tender offer even before a final decision to proceed. The judge also noted at the time that a Feb. 25, 2014, contract between Ackman and Valeant stating that they hadn't taken steps toward a tender offer "does not make it necessarily so."
3. How does Ackman explain things?
In a sworn deposition this year, Ackman testified that he and Valeant weren't initially considering a tender offer because that strategy is rarely used in hostile bids now. "There's something called a poison pill and that's made the tender offer not the vehicle of choice for bids these days," Ackman said. He and Valeant claim they only switched tactics in May 2014, at the urging of some Allergan investors after the board had rebuffed their merger proposals. By then, Ackman had already snapped up 9.7 percent of Allergan stock. Suing shareholders claim that Ackman and Valeant knew all along that they would have to make a tender offer because Allergan's board wouldn't agree to a merger.
4. Is that Ackman's entire defense?
No. He also says he's exempt from the SEC rule because his hedge fund, Pershing Square Capital Management, was a co-offeror with Valeant in the Allergan bid. The SEC allows the party who has taken steps to begin a tender offer -- or the agent -- to trade on nonpublic information about it; it's "any other person" who is prohibited from doing so. Ackman points to a disclosure statement filed by Valeant and PS Fund 1, the joint venture between Valeant and Pershing Square, in which they list themselves as "co-bidders" in the tender offer for Allergan. The judge has been skeptical, saying he was "doubtful" the rules made an exemption for Pershing Square as a strategist and financier to Valeant.
5. What has the SEC done?
The SEC hit Allergan in January with a $15 million penalty for failing to disclose that it was in talks with two other companies about being acquired while it was rebuffing Valeant's hostile takeover attempt. But the agency hasn't taken any action against Ackman or Valeant over their Allergan bid.
6. What's the purpose of the Dec. 8 hearing?

Both the Allergan shareholders and Ackman have asked the judge to decide whether there was illegal insider trading, a ruling that is only possible if Carter finds that the outcome is obvious based on information both sides agree is true. However, if the judge concludes that there are fundamental disagreements about what happened, it's for a jury to decide. Even if the case proceeds to trial, the judge's decision at this stage can help both sides evaluate their positions and provide a foundation for a negotiated settlement. The vast majority of shareholder lawsuits are settled before trial.
7. What will the ruling mean for future takeovers?
A decision on whether being identified as a co-bidder on a regulatory disclosure statement creates a shield against insider-trading claims could provide guidance to other hedge funds looking to help finance a takeover. The case may also further clarify what constitutes substantial steps toward a tender offer and when information about a potential takeover can be shared with others.
The Reference Shelf
Before it's here, it's on the Bloomberg Terminal.
LEARN MORE