Electoral Crisis, Striking Cops, Looting: Honduras Is a Buy?
By
Investors shrug off ongoing electoral stalemate; bonds rally

Council has until day after Christmas to declare winner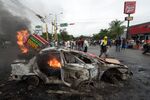 Over the past week, Honduras has seen looting, curfews, roadblocks and a police rebellion amid its worst political crisis in a decade. Yet, whoever else is worried about the nation's descent into chaos, it isn't bondholders.
After an initial sell off after the vote, the nation's bonds have rallied, returning 1.24 percent over the past week, the most behind Turkey in the Bloomberg USD Emerging Market Sovereign Bond Index.
| | |
| --- | --- |
| Country | Total 1 week return  |
| Turkey | 1.75 |
| Honduras | 1.24 |
| Ecuador | 1.24 |
| Iraq | 0.89 |
| Gabon | 0.87 |
| Lebanon | 0.81 |
| Morocco | 0.76 |
| Bahamas | 0.73 |
| South Africa | 0.70 |
| Brazil | 0.70 |
The Central American country, which became a bondholder favorite in the last four years after President Juan Orlando Hernandez slashed the fiscal deficit, has yet to declare a winner in the Nov. 26 presidential election. Allegations of fraud and irregularities in the vote prompted widespread demonstrations and demands by the opposition for a total recount or run-off election. Authorities have three weeks to declare a winner, with no solution in sight.
Yet, none of it seems to be damping the market's enthusiasm for Honduras's debt. With low yields elsewhere, investors are willing to wait out the current crisis, said Invesco's Sean Newman, who helps manage $900 billion.
"Short-term social instability may not deter markets from looking through the medium term political 'noise' especially if it seems the incumbent party may retain a majority in congress," Newman said in an email. "Given the choice of low global yields or 'high yielding' Honduras, the markets may opt for the ride down to Tegucigalpa."
Narrow Lead
With all of the votes tallied, Hernandez holds a 52,477-vote lead over Salvador Nasralla, a 64-year-old television presenter turned politician who represents an alliance of opposition parties. Nasralla has proposed raising the minimum wage and increases taxes on luxury goods, while supporting fiscal responsibility.

What he would actually do in government is a "wait and see" game for now, said Eurasia Group analyst Risa Grais-Targow.
Still, the impact of political chaos may be a greater risk than a victory for Nasralla, according to Andrew Stanners, a money manager at Aberdeen Asset Management PLC who holds the nation's dollar bonds. Honduras's economic trajectory -- marked by a fiscal deficit that narrowed to 2.6 percent of gross domestic product last year and an economy the IMF forecasts will expand 4 percent this year -- is likely to continue regardless of who is declared the winner, he said.
"Investors have had to get used to close and, for some, disappointing political votes," Stanners said. As a result, investors need to "make sure they understand the underlying macro story. Honduras, at present, is one of those cases."
Quotes from this Article
Before it's here, it's on the Bloomberg Terminal.
LEARN MORE