Cabinet Revolt, Tough Allies Erode Chances of Brexit Deal
By , , and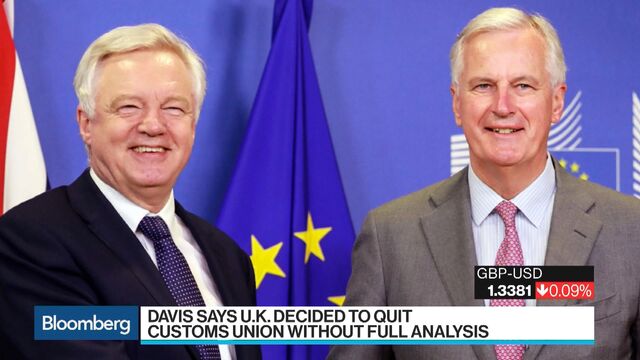 Theresa May spoke on Wednesday to the leader of the Northern Irish party that's standing in the way of a Brexit deal, but an agreement remains elusive.
May is battling on two fronts at home, while European officials are being unusually friendly. May faces a cabinet revolt after two pro-Brexit ministers expressed concern she was watering down Brexit. And she urgently needs to find a proposal that Northern Ireland's Democratic Unionist Party can accept on what the Irish border will look like after Brexit.
She has until the end of the week to take some new ideas to Brussels, or risk failing to secure the breakthrough next week that would allow Brexit negotiations to finally move on to the trade deal businesses are desperate to see.
Meanwhile it emerged that the Cabinet hasn't decided what it wants that final trade deal to look like. Chancellor of the Exchequer Philip Hammond said the formal discussion hadn't taken place and it would be premature to have one now. The EU, by contrast, has started talking about what it wants from a trade deal, and has already mapped out a rough outline.
In other developments:
Coming Up:
Dec 8: Barnier speaks in Paris
Dec. 11: EU leaders representatives meet in Brussels to prepare for summit
Dec. 12: EU ministers meet in Brussels to finalize summit preparations
Dec. 14: EU summit -- this is when U.K. wants EU to sign off on divorce terms so talks can move on to trade
Before it's here, it's on the Bloomberg Terminal.
LEARN MORE