Broadcom Projects Robust Sales on Strong Smartphone Demand
By
Apple supplier posts jump in wireless chip unit revenue

Chipmaker sticking to long-term target of 5% annual growth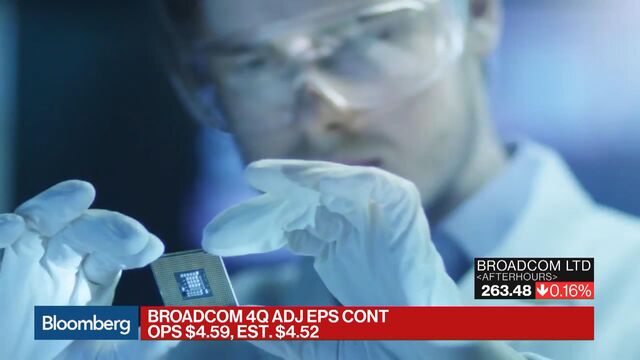 Broadcom Ltd., the chipmaker that is trying to pull off the biggest takeover in the history of technology, gave an upbeat sales forecast, indicating that its smartphone customers are optimistic about demand.
Revenue in the period that ends Feb. 4 will be about $5.3 billion, the San Jose, California-based company said Wednesday in a statement. That compares with analysts' average estimate of $4.83 billion, according to data compiled by Bloomberg. The forecast includes a partial contribution from the recently acquired networking business of Brocade Communications Systems Inc.
Chief Executive Officer Hock Tan has led his company's climb up the ranks of chipmakers in the past three years through a series of acquisitions. That scale now makes its earnings an indicator of demand across the communications industry, in particular because Broadcom is a major supplier of components to Apple Inc. for the iPhone. It's trying to extend that reach even further through a $105 billion offer made in early November for Qualcomm Inc., the biggest maker of chips that power smartphones.
Acquisition Fight
Qualcomm's board and management rejected the $70-a-share bid as too low and said the transaction would face regulatory challenges. Broadcom responded by reiterating that it will continue its approach, and earlier this week nominated a replacement group of directors to Qualcomm's board.
Broadcom has had preliminary discussions with regulators and expects to be able to get a deal for Qualcomm closed within about a year of signing of an agreement, Chief Financial Officer Tom Krause said on a conference call about the earnings. The company refused to take any questions on the topic.
Broadcom shares gained about 4 percent in extended trading following release of the quarterly results. They had earlier closed at $263.89, leaving them up 49 percent this year. That compares with a 36 percent gain by the Philadelphia Stock Exchange Semiconductor Index.
The company's wireless communications business, which supplies components such as Wi-Fi chips, chalked up revenue growth of 33 percent to $1.8 billion in the fiscal fourth quarter. Sales in its biggest division, wired infrastructure, increased 3 percent to $2.1 billion.
Tan said the rise in wireless division sales were driven by the increasing number of chips the company is contributing to new devices from a "large North American smartphone customer" -- taken to be a reference to Apple. Broadcom's CEO expects the wireless business to continue to improve in the current period, he said on the conference call.
Tan's acquisitions have lifted the chipmaker's annual revenue from $2.5 billion in 2013 to about seven times that amount in the latest fiscal year. His most-recent deal, the purchase of Brocade Communications, was completed in mid-November.
The company is sticking to its long-term target of 5 percent annual sales growth while predicting it will be more profitable than previously thought. Broadcom is aiming for a gross margin, the percentage of sales remaining after deducting costs of production, of 65 percent, 5 percentage points higher that it had expected. Gross margin in the just-reported quarter was 63 percent.
Broadcom has shown it can integrate its takeover targets and produce strong earnings, said David Heger, an analyst at Edward Jones. "They certainly know how to get costs out of acquired business and ramp margins," he said.

Net income in the period ended Oct. 29 was $671 million, or $1.50 a share, compared with a loss of $668 million, or $1.59, a year earlier. Adjusted earnings per share from continuing operations were $4.59, compared with analysts' average projection of $4.52. Revenue rose 17 percent to $4.84 billion, just beating analysts' estimates.
Before it's here, it's on the Bloomberg Terminal.
LEARN MORE