Scandinavia Isn't Feeling the Love for Bitcoin
By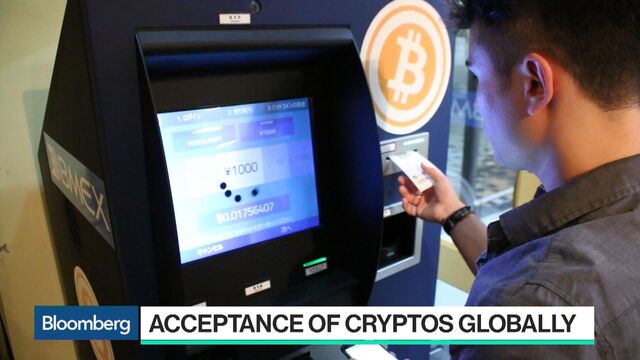 First the Nordea Bank AB chief executive called it a "joke" and an "absurd" construction. Then Danish banks said they wouldn't touch cash from bitcoin speculation. Now, one of Scandinavia's biggest investors is airing its skepticism.
ATP, Denmark's largest pension fund with about $120 billion in assets under management, says it's steering clear of bitcoin despite signs the cryptocurrency is gaining a foothold in the derivatives market.
"One can of course sit down and read about the technical design, but bitcoin and the role it's supposed to play is something we basically don't feel comfortable with," ATP Chief Investment Officer Kasper Ahrndt Lorenzen said in an interview in Copenhagen.
Bitcoin Has Had a String of Bad News, and Nobody Cares: Gadfly

"I think one just needs to be humble as an investor," he said. "When one doesn't feel comfortable about something, one needs to be a bit humble and not go into it."
Understanding Bitcoin's Rise: QuickTake Q&A
According to Casper von Koskull, the Nordea CEO, it makes no sense to allow an asset class into the mainstream if it's tainted by association with financial misconduct.
"I haven't got my head around it," von Koskull said. "When we look at all the financial crime and all the regulation, how does bitcoin fit in?"
Blankfein Says Too Soon for Bitcoin Plan as Volatility Jumps
"If you somehow allow that to live without controls, then, given the billions we spend on financial regulation as a financial system, I mean, I think it's actually a joke that you then just let something like bitcoin live," von Koskull said. "I don't get it -- it's absurd."
Bitcoin Futures Plan Criticized by Brokers for Overlooking Risks
In Denmark, Danske Bank A/S is among lenders to say it won't let customers deposit returns obtained by speculating on bitcoin, according to the Borsen newspaper. The Danish central bank has made clear it doesn't consider bitcoin a form of money, because of the lack of an official issuer. The bank instead defines bitcoin as an asset without any intrinsic value of the kind that, for example, precious metals have.
Lorenzen at ATP also questions bitcoin's designation as a form of currency.
"If we were to treat bitcoin as a cryptocurrency, we just don't think it's there yet," he said. "If we were to invest in a cryptocurrency, our mind set is such that we need to have a currency hedge. And we would do that based on established risk premiums. Bitcoin doesn't have an established risk premium."
Bitcoin Is No Bubble, Says Investor With $213 Million Stake
But there's a growing community of bitcoin converts and they've lately driven its price to dizzying heights as investors hope the use of futures contracts will help it gain legitimacy.
Cboe Global Markets Inc. has said it will start trading bitcoin futures on Dec. 10, while CME Group Inc.'s contracts are set to debut on Dec. 18. Nasdaq Inc. is planning to offer futures in 2018, according to a person familiar with the matter. Cantor Fitzgerald LP's Cantor Exchange is creating a bitcoin derivative, and startup LedgerX already offers options. It's also possible to invest in bitcoin via exchange-traded notes in Scandinavia.
Volatility Will Only Boost Audience for Sweden's Hot Bitcoin ETN
Lorenzen says ATP is "always looking into expanding our investment universe, and if/when bitcoin becomes more established, and we feel comfortable, then it's something we would consider including in our investment universe, on an equal footing with other currencies."
"It's clear that the monopolistic systems that used to exist and control everything have been challenged," he said. "That world no longer exists."
— With assistance by Dave Liedtka
Before it's here, it's on the Bloomberg Terminal.
LEARN MORE