Billionaire Wiese Picks Up Pieces After Steinhoff Train Wreck
Retailer rocked as CEO Jooste leaves amid accounting probe, sending its market value plunging $8 billion
By and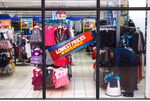 Christo Wiese has spent five decades building a small chain of South African clothing stores into a multibillion-dollar retail empire spanning four continents, with ambitions of challenging mighty Ikea in home furnishings. Now he's trying to stop his creation from tumbling like a house of cards.
The billionaire, 76, stepped in as interim chief executive officer at Steinhoff International Holdings NV after his friend Markus Jooste resigned amid an accounting scandal that wiped out more than $13 billion of the company's market value this week -- along with more than $2 billion of Wiese's personal fortune.

Steinhoff shares plunged as much as 35 percent early Thursday after a 63 percent drop on Wednesday,  putting an end to one of South Africa's most ambitious overseas business expansions. After snapping up retail chains ranging from France's Conforama to the U.K.'s Bensons for Beds to Mattress Firm in the U.S., the company can say goodbye to dealmaking; Wiese faces a breakdown of investor trust.
"There are clearly more unknowns than known information pertaining to the group's real financial position and operations," Anchor Capital's Sean Ashton said in a note. "It is clear that fraud remains a distinct possibility."
The shares plunged after the company said late Tuesday that it uncovered irregularities in its accounts and delayed indefinitely a financial report scheduled for Wednesday. Jooste, 56, quit with immediate effect, ending a nearly 20-year career with the company. Wiese, the chairman, said he'd lead Steinhoff for now.

Wiese started work at clothing seller Pepkor in South Africa's sparsely populated Northern Cape in the 1960s. By 2014, he had expanded it into Africa's biggest retailer. It was then that he sold it to Steinhoff, a furniture chain run by Jooste. That company had its own colorful history, having been started in then-West Germany in the 1960s, selling cheap furnishings made in the communist east to bargain hunters.
The $5.7 billion Pepkor deal was the biggest takeover in South Africa in more than a decade, and saw Wiese become Steinhoff's biggest shareholder. The company now has nearly 20 billion euros ($23.6 billion) in annual sales.
"I thought in terms of building a really world-class discount retailer, the two businesses would make an excellent fit," he told Bloomberg News at the time. Steinhoff is "the sort of company that can really go places, they've carved a niche for themselves in the world where they play."
Wiese was true to his word. Steinhoff went to France and the U.K. to make offers for appliance chain Darty and home-furnishings retailer Argos, respectively. Both bids ultimately failed, but Wiese and Jooste weren't discouraged. Steinhoff was successful with an approach for Poundland, the British discount chain, before crossing the Atlantic to mop up Mattress Firm in the U.S.
In September, Steinhoff separately listed shares of its African retail subsidiary, focusing the parent company on global home-furnishings markets.

Wiese, who like Jooste did not answer calls to his mobile phone, had already been hit by a series of financial setbacks before the share plunge Wednesday. His investment vehicle Brait SE in the U.K. has suffered since the vote to leave the European Union. Clothing chain New Look, which Brait bought for about $1.2 billion, it now values at zero.
Steinhoff International debt also plunged Wednesday, with 800 million euros of senior unsecured bonds due in 2025 falling as much as 41 cents on the euro, to 42 cents, according to data compiled by Bloomberg.
After the Pepkor deal, Wiese invested a further $1.8 billion in Steinhoff in September 2016, partly financing the deal by pledging shares to Citigroup Inc., Goldman Sachs Group Inc., HSBC Holdings Plc and Nomura International Plc. With the security price now lower than the value of the loan, he may be required to transfer more shares as collateral. 
Both Wiese and Jooste own properties in the scenic wine country around Cape Town, alongside other South African businessmen including Whitey Basson, who ran retailer Shoprite Holdings Ltd. for 37 years until earlier this year.
Old Ally
Having lost his closest ally in Jooste, the billionaire has called on an old colleague to help ride out the mess. Steinhoff hired Pieter Erasmus, a former CEO of Pepkor, in an advisory role.
Erasmus is a "tried and tested lieutenant," said Syd Vianello, an independent retail analyst in Johannesburg. "Wiese has got a huge amount of money at stake and it's in his best interest to ensure trust in the company is restored."
With a 19 percent stake in Steinhoff as well as 35 percent of Brait and 17 percent of Shoprite, Wiese remains a billionaire, but his days of challenging Richemont Chairman Johann Rupert and Anglo American Gold Investment Chairman Nicky Oppenheimer for the top of South Africa's rich list may be over. His net worth has almost halved this week to $2.2 billion, according to the Bloomberg Billionaires Index.
— With assistance by Tom Beardsworth, Karin Matussek, and Renee Bonorchis
Before it's here, it's on the Bloomberg Terminal.
LEARN MORE