politics
Balance of Power: Trump Defies 70 Years of U.S. Policy on Jerusalem
By
Balance of Power: Trump Defies 70 Years of U.S. Policy on Jerusalem
By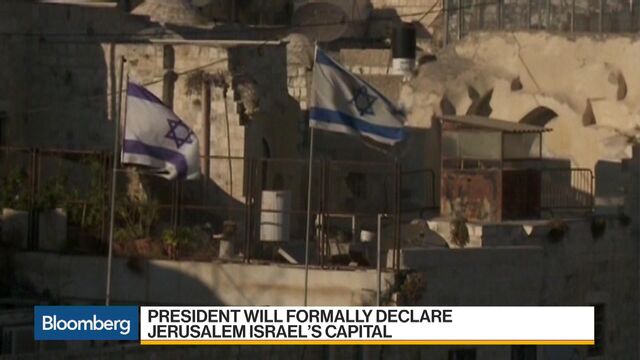 As a candidate, Donald Trump boasted he could stand on New York's Fifth Avenue "and shoot somebody" without losing votes. On Saturday, after the Senate passed his tax-cut proposal, he declared himself "unbeatable" in 2020.
Trump will again demonstrate his belief in his own invincibility today when he spurns warnings from Middle East leaders, European allies and even the Pope — not to mention 70 years of U.S. foreign policy — and formally declares Jerusalem to be Israel's capital.
"No president up to now has wanted to risk it because there is no upside to doing it," said Ilan Goldenberg, a senior fellow at the Center for a New American Security. With the Palestinians claiming the city as a capital of a future independent state, Trump's move could trigger riots and the targeting of American embassies, Goldenberg said.
Trump is attempting to make good on a campaign pledge to "move the American embassy to the eternal capital of the Jewish people" that was popular among more conservative Jewish people and evangelical Christians, a bedrock of his base.
But the risks are myriad for Trump, who's grappling with low approval ratings and a Russian meddling probe in the U.S. Any resulting unrest in the Middle East could quickly add to his political difficulties.

Sign up to receive the Balance of Power newsletter in your inbox, and follow Bloomberg Politics on Twitter and Facebook for more.
Global Headlines
Shutdown coming? | A Republican party faction in the U.S. House is raising warnings about federal spending that have left leaders scrambling to avoid a shutdown when government funding runs out Friday. The objections from members of the House Freedom Caucus come two weeks after conservatives backed tax-cut legislation that would raise federal deficits by $1 trillion over the next decade.
May's mess | It's all going wrong for U.K. Prime Minister Theresa May — from a plot to kill her outside her office to stirrings of a new rebellion from the pro-Brexit wing of her Conservative Party. The European Union has given her until the end of the week to deliver new proposals to unlock talks, but the Northern Irish ally who put the kibosh on her breakthrough attempt this week is not even taking her calls. A Brexit deal that looked within reach a few days ago now seems like a long shot.
Moore trouble on horizon | For Roy Moore, winning a special election in Alabama on Dec. 12 may only be half the battle: he could still face the fallout of allegations he pursued sexual relationships with teenagers. Senate Republican Leader Mitch McConnell said Moore — who has received a last-minute boost from Trump and the Republican National Committee — would face an immediate ethics probe. Several senators have said Moore should be expelled if he wins.
A path to North Korea talks? | U.S. Ambassador to China Terry Branstad said that if North Korea ceased all weapons tests "there's an opportunity for us to get back to the bargaining table." Branstad made the remarks in an interview with Bloomberg's Tom MacKenzie as the U.S. sent a B-1 bomber to join large-scale aerial drills with South Korea and a neighboring Chinese province advised its residents on how to survive a nuclear attack.
High expectations | It's been almost three years since King Salman ascended the Saudi throne and began transferring levers of power to his son Prince Mohammed bin Salman. After potential rivals were sidelined there's now no one left to stymie the prince's economic and social reform plans, but there's also no one else to blame if expectations aren't met. Vivian Nereim looks at populist anger stirred by poor management of flooding in Jeddah and what that might mean for the king's heir. 
And finally... When Lebanese Prime Minister Saad Hariri resigned in a televised address from Saudi Arabia last month, it was one of the more bizarre political events in a region that's no stranger to the unexpected. Some Lebanese even believed he was being held hostage by the Saudi ruler to further his nation's battle for influence with Iran. Now Hariri's back home, more popular than ever, and vowing to remain in office after his governing partners pledged to stay out of neighboring conflicts. As for what really happened in the desert kingdom, he says he'll never tell.

— With assistance by Dana Khraiche