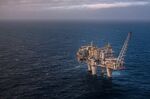 There was a time when getting excited in the oil business meant getting in the water.
From the late 1960s onward, petroleum engineers flocked to inhospitable places like Alaska's offshore or the North Sea, home to the most cutting-edge projects. These days, all the action is on dry land, as onshore tight-oil basins, especially America's shale fields, suck the oxygen -- and many of the development dollars -- from the room.
Even so, the offshore business isn't dead, with Norway's Statoil ASA offering the latest evidence on Tuesday. It just gave the go-ahead to develop the Johan Castberg field, roughly 1,200 feet below the Arctic waters off Norway's northern coast.
In one sense, this is not earth-shattering: If you are the Norwegian national oil company and your reputation rests largely on how well you can drill holes beneath freezing, stormy seas, then that is what you tend to do.
What is noteworthy is that Statoil is going ahead despite Brent crude oil prices having only recently poked back above $60 a barrel. This sort of drilling is expensive and time-consuming; Johan Castberg isn't due to start producing barrels until 2022.
The initial wave of development in places like the North Sea several decades ago was fueled largely by the oil shocks of the 1970s, providing the rationale (and high oil prices) to take on the challenge and expense. The shale boom got a similar tailwind from triple-digit prices for much of the decade leading up to 2014.

As so often with brash newcomers, the frackers have complicated life for the old hands on those offshore rigs. Whereas shale oil used to be the high-cost option, recent efforts to increase productivity in places like West Texas -- spurred by falling prices this time -- have taken breakeven prices for U.S. onshore oil down to levels more like $50 or $60 a barrel (and taken the whole market down too). Plus, these wells can be drilled and completed in months rather than years, giving producers flexibility and even less of a reason to commit to multi-year offshore projects with a tendency to bust through schedules and budgets.
This has forced the old guard to try and get leaner themselves. Johan Castberg was discovered in 2011, and its budget was estimated initially at a cool 100 billion kroner, or about $12 billion. With estimated recoverable reserves of 450 to 650 million barrels of oil equivalent -- the vast majority of it being oil -- that's a development cost of about $27 to $39 a barrel. That looked doable (sort of) when Brent was averaging $111 a barrel -- as it did the year of first discovery -- but made the field a non-starter once prices crashed.
Today, Statoil estimates it will cost just 49 billion kroner ($5.9 billion) to develop the field, or $13 to $19 per barrel of oil equivalent. The company claims the field is profitable at oil prices below $35 a barrel. Even allowing for the usual optimism  inherent in companies' self-assessments of breakeven prices, it's clear there's been a radical makeover in the cost structure.
Importantly, this isn't just a function of squeezing services contractors. There is some of that, but Statoil says it accounts for only about 17 percent of the 41.7 billion kroner ($5 billion) of savings it details here. Far bigger factors, for example, were redesigns of the sub-sea systems operating on the sea-floor and other equipment, with an emphasis on standardization rather than the one-off, and expensive, engineered solutions typical of such projects in the past.
The latter, especially, is critical if there are to be more Johan Castbergs approved. While news of another project going ahead is welcome in an industry that has been savaged by the downturn, offshore activity remains relatively muted. As of October, 22 offshore projects had been sanctioned worldwide so far this year, according to analysts at Bernstein Research, versus just 11 in all of 2016 -- which is a hopeful sign but hardly a return to the glory days:

Banking on an oil-price rally to restore the industry's fortunes is one strategy, but not a sensible one, and most serious oil majors have disavowed it. Like the shale pioneers who showed them up, the only viable path is to cut unit costs as much as possible.
Besides their own efforts, that rests also on their contractors retooling for lower oil prices. Even if it hasn't shown up in their share prices so far, this favors the likes of Schlumberger Ltd.; Baker Hughes, a GE Co., LLC; and TechnipFMC Plc.
The latter, which signed a letter of intent with Statoil on a different project on Tuesday, merged at the beginning of this year precisely in order to deal with the drop-off in offshore spending. At its analyst day last month, it highlighted a new set of sub-sea systems designed to cut the size and number of parts by half and -- critical for project returns -- knock a year off the development schedule.
Such changes are not only vital if the offshore business is to regain its mojo; they add a further deflationary factor in determining oil prices over the longer term.
Before it's here, it's on the Bloomberg Terminal.
LEARN MORE