Morawiecki Floated as Potential Polish Premier
By and
Cabinet may be revamped by end of next week, ruling party says

Morawiecki won't change government's course, ING analyst says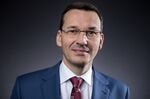 Already the face of Poland's government for many investors, former bank executive and current Finance Minister Mateusz Morawiecki may soon become its face for everyone.
The leadership of the ruling Law & Justice party will discuss a plan to replace Prime Minister Beata Szydlo with Morawiecki, who also serves as deputy premier, on Thursday, and changes to the cabinet may come next week, party spokeswoman Beata Mazurek said. While no decisions have been made, Morawiecki has "many virtues" and is of the right caliber to take such a role, Jacek Sasin, head of parliament's public finance committee, said on Wednesday.
Morawiecki, 49, drafted Law & Justice's economic program to carve out a bigger role for the government in business -- fitting into the party's drive to centralize power and steer Poland away from the more liberal, multicultural model that's dominated the country's 28-year post-Communist transformation. If he becomes premier, it probably wouldn't lead to major changes in that drive or plans for a judicial revamp that's been criticized by the European Union, according to ING Bank Slaski SA and BGZ BNP Paribas SA.
"A person who has better ratings among foreign investors may become the premier," said Michal Dybula, an economist at BGZ BNP. "Such a move is always positive."
A former chief executive officer of Bank Zachodni WBK SA, in which Banco Santander SA holds a majority stake, Morawiecki has repeatedly traveled to London and New York to meet investors and helped implement an expansion of welfare spending while curbing tax loopholes to shore up budget revenue.

The approach, along with the fastest economic growth since 2011, has allowed Poland to rein in the budget deficit, an important factor to encourage foreign investors to keep financing state borrowing. Non-residents hold almost 202 billion zloty ($57 billion) of Poland's local-currency bonds, a third of the outstanding amount.
No 'Revolution'
"Morawiecki is more sensitive to budget issues," said Rafal Benecki, the chief economist at ING. "His appointment would slightly increase trust by foreign investors, with an emphasis on the word slightly, as I don't expect any political revolution or the repeal of the judicial overhauls, for example."
The zloty, which was little changed against the euro on Tuesday, weakened 0.2 percent on Wednesday at 2:01 p.m. in Warsaw. The yield on 10-year bonds fell 1 basis point to 3.27 percent, compared with 2.61 percent when Law & Justice won power in 2015.
Szydlo announced a revamp of her cabinet in October amid reports of infighting between ministers. Law & Justice leader Jaroslaw Kaczynski was also seen as a candidate to take over as prime minister, according to the Polish edition of Newsweek. By promoting Morawiecki, a relative newcomer to politics, Kaczynski would retain a "key role" in policy making, according to Benecki at ING.
"We've been discussing the cabinet change for a long time," ruling party spokeswoman Mazurek told reporters. The party is focused on the government's goals, "which aren't changing and remain economic in nature, and this is Morawiecki's responsibility."
Natural Candidate
"Our natural candidate is chairman Kaczynski, but if he doesn't decide to go for it, the second best is Morawiecki," Adam Lipinski, Deputy Chairman of the ruling party, and a close aide to Kaczynski said on Wednesday. "We want to have a new cabinet lined up before Christmas."
In the name of strengthening state control over Poland's $470 billion economy, Szydlo's government has bought out foreign investors in the banking and power industries while planning to change media rules to curb the influence of international companies. The country's overhaul of the judiciary is threatening to trigger the first ever EU sanctions against a member country's government.
Click here to read more about Poland's shift toward populism
While Morawiecki said the EU's criticism was a backlash for Poland's "patriotic economic policies" and its disputes with countries such as France, which are trying to restrict access for Polish workers, Rabobank strategist Piotr Matys sees a threat that politicians may hold an even bigger sway over the economy, with parallels to Turkey.
"If Morawiecki's plan results in the politicization of the economy, as the most fierce critics claim, the Polish zloty may become as volatile as the Turkish lira, with serious implications for monetary policy," Matys wrote in a research note Wednesday.
— With assistance by Marta Waldoch
Before it's here, it's on the Bloomberg Terminal.
LEARN MORE