Politics
For Nebraska Landowners, the Fight Against Keystone XL Hasn't Come Cheap
They vow to keep fighting, but after nine years, their resources have run thin.
By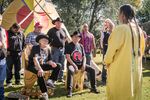 November is the end of harvesting season in northeast Nebraska, so on the morning of Nov. 6, 2015, Art Tanderup was out combining. Early that day, President Barack Obama rejected TransCanada Corp.'s application to build the Keystone XL pipeline, an extension of the existing Keystone system that carries heavy crude from the Alberta tar sands to refineries on the Gulf Coast. Tanderup is one of about 90 landowners in Nebraska who've refused to sign easements allowing the pipeline to be built on their property. The announcement hadn't even made it to the radio before he got a call from a New York media outlet. "I shut that combine off so fast," he says. "I don't know whether I let out any expletives or not, but it was a good day. At that time, I really felt, this should be the end of this." 
It wasn't. In March, President Donald Trump's State Department reversed its predecessor's decision and approved Keystone XL, which left only one regulatory hurdle: approval by the State of Nebraska Public Service Commission (PSC). On Nov. 20, the five-member panel declined to approve TransCanada's preferred route for the XL line, instead giving the company a go-ahead to build along an alternative route, a mixed decision that may set up more years of legal and regulatory challenges.
After fighting Keystone for almost a decade, only to see it come back from the dead under Trump, the farmers and ranchers opposing the project are still optimistic it won't get built. They calculate that the prospect of further tortuous approvals ahead may be too much for TransCanada, which has also faced declining oil prices and what many analysts see as a wariness among producers to ship oil along the pipeline—and among refiners to buy it. A Nov. 16 spill of approximately 5,000 barrels of oil from the existing Keystone pipeline doesn't help. South Dakota officials may consider revoking TransCanada's permit to operate the conduit in the state, according to the Wall Street Journal. While it waits for TransCanada to make its next move, Nebraska's resistance movement is taking stock of its remaining resources—financial, social, and emotional.
Tanderup and his wife, Helen, both retired, are now living on modest pensions and the revenue from their 160-acre farm, which they inherited from Helen's parents. Although they—and their parents before them, Tanderup says—managed to eke out a living from their limited acreage, falling incomes for small farms have cut into his and Helen's bottom line. Tanderup declines to share their annual income but notes that since Helen retired in 2011, they haven't had to pay federal income tax. They still have about $12,000 tied up in a lawsuit with TransCanada over legal fees related to its attempt to use eminent domain to seize access rights from the holdout landowners. That case will come before the state Supreme Court in January.
"It's been a huge personal cost—not just money, but time," says Rick Hammond, who's traveled Nebraska speaking out against Keystone XL since its original proposed route crossed his farm in 2008. In the course of his outreach, a neighbor whose land Hammond had rented for 15 years severed the lease because of Hammond's "outspoken opposition to the Keystone XL," he says, quoting from memory a letter sent by the neighbor's lawyer informing him of the decision. "I'm going to keep fighting this thing, but I'm getting to the burnout stage," he adds. "I just don't want, or need, or have the energy to take it on again."

The environmental group Bold Nebraska and its founder, Jane Kleeb, get most of the credit for organizing landowner resistance to the pipeline, but the Omaha-based Domina Law Group has played a key role giving them legal representation going as far back as 2010. Two years later, the firm formed Nebraska Easement Action to advise landowners on their rights in negotiations with TransCanada after several reported having been played off against one another and threatened with eminent domain by land agents. (TransCanada called these claims "disappointing" and said it has a strict code of ethics to which all representatives of the company are required to adhere. It invited landowners to call its business ethics hotline to report specific cases of misconduct.)
Years ago, Domina made the decision to handle its Keystone-related work 90 percent pro bono, says partner Brian Jorde. "Ten percent has been kicked in by landowners and others sympathetic" to the cause, including nonprofits such as Bold Nebraska and individual donors, he says. "At the end of the day, it's millions of dollars that have been necessary to this point to fight successfully." The firm is small—only four lawyers and minimal support staff, Jorde says—with much of the work on the Keystone cases getting done on nights and weekends.
Domina is one of a coalition of firms representing the various facets of the resistance effort. Even though these also include national groups such as the Sierra Club and 350.org and the Ponca and Yankton Sioux tribes, the landowners have long been the face of that effort, and Nebraska its front line. Domina has a history of standing with farmers against corporations, including Monsanto Co. and Syngenta AG. "Frankly, if they would've had to pay the whole way, this would've been lost a long time ago," Jorde says of the landowners resisting TransCanada. "Sometimes you've just got to stick with it and see things out that are the right thing to do."
Whether they—or the native tribes or the environmental groups—continue to fight Keystone XL in court will depend largely on TransCanada. "We're not going to file anything until we know what TransCanada's intentions and next steps are," said Kleeb, the founder of Bold Nebraska, the day after the PSC rendered its verdict. Three days later, on Nov. 24, TransCanada filed a motion with the PSC to amend its application with additional material concerning the alternative route (it did not ask that the commission reconsider its preferred route), followed by a motion from the landowners the next day. The PSC will hear oral arguments on the motions on Tuesday, Dec. 12, and all parties on both sides have until Dec. 20 to file an appeal with the state.
The PSC's decision to approve an alternate route leaves TransCanada with difficult decisions. The alternate route is longer than its preferred one. The company also has to obtain approval for a new pumping station from any of a handful of state agencies, including the Nebraska Energy Office, the Nebraska Power Review Board, and the Nebraska Public Power District, which Kleeb estimates could take as long as two years, as well as new easements from property owners along the new pipeline path.
Although TransCanada has consistently maintained that interest is high among companies that would potentially buy capacity on a new KL pipeline, its initial communications immediately following the ruling were ambiguous, at best. At a Nov. 28 investor meeting, Chief Executive Officer Russ Girling said the company is reviewing the decision "and its potential impacts on the cost and schedule of the project." TransCanada representative Matthew John wrote in an email that "it's a bit too early" to answer questions about the company's plans to appeal the decision or proceed with pipeline construction.
Gavin MacFarlane, a vice president at Moody's Investors Service, wrote in an investor comment that Girling's initial statement following the ruling "does not provide certainty that the project will ultimately be built and begin operating." Lorne Stockman, an analyst for Oil Change International, says he would "be very, very surprised that shippers are signing on the dotted line."
Jorde was optimistic about his clients' odds after hearings before the PSC in August, and he remains so today. In 2011 and 2013, as well, he says, all roads seemed clear for construction. "I don't think TransCanada's ever going to build on this route," he says. "Until the pipeline's in the ground in our state, landowners are winners."
(
Corrects year of Domina Law Group's involvement with landowners in the sixth paragraph and the context of MacFarlane's statement in the 12th paragraph.
)
Before it's here, it's on the Bloomberg Terminal.
LEARN MORE