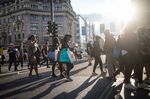 Like a shopping mall in the days after Christmas, the British retail industry often resembles a grim and depressing place. Brexit and rising rates have rattled the confidence of both consumers and investors.
But recent wage and inflation data suggest the tide is turning for household incomes. 2018 may not be as gloomy as 2017—and that might provide some respite for the embattled sector.
First the grim stuff. Sales at stores open at least a year rebounded 0.6 percent in November after a 1 percent drop the previous month, the British Retail Consortium said on Tuesday. But the gain was all food-driven: exclude that, and sales fell 1.2 percent, showing that households are watching their budgets.
Then there are the latest weekly figures from John Lewis Partnership, which operates department stores throughout the country. On Tuesday, the retailer said annual sales growth slowed to 3.3 percent in the week to Dec. 2, down from 4.2 percent the previous week and 5.4 percent in the year-earlier period.

Black Friday wasn't the big event retailers had hoped for. Rather than driving overall sales, it appears to be sucking sales away from the rest of the festive shopping season. 
And then there's consumer credit, which the U.K. economy is heavily dependent on. Credit growth had been consistently running in double digits, but slowed to 9.8 percent year-on-year in September and then to 9.6 percent in October. 

Consumers are increasingly focusing on online bargains. Promotions will still attract interest—but there has to be a discernible bargain. Gaming, wearable technology and the "internet of things" are the hot items. Recent cold weather has helped clothing, but it's been a difficult season, particularly for fashion items, after a warm October.
Demand for big-ticket items is under particular pressure. New car sales dropped for an eighth consecutive month in November, according to figures released Tuesday by the Society of Motor Manufacturers and Traders. The trade group cited "falling business and consumer confidence" for last month's 11.2 percent drop.

But it's not all misery. For much of 2017, attention has been focused on how the combination of a rising cost of living and stagnant wages has squeeze consumers' wallets. The latest quarterly data show the worst may be over.
The worst of the bump in inflation following sterling's sharp fall last autumn after the Brexit referendum is finally passing through. Consumer price inflation likely peaked at 3 percent and should now drop back towards the Bank of England's 2 percent target.
Since the CPI data aren't seasonally adjusted, it would be more accurate to look at the personal consumption expenditure deflator series, which is seasonally adjusted. Contrasting that with quarterly average weekly earnings—as Bloomberg Economics's Dan Hanson has done—suggests wage growth is finally picking up. And that means real incomes are turning positive.

It will undoubtedly take some time for the warm glow to return, but, if this turns into a sustainable trend, 2018 might turn out to be slightly better than this year for Britain's beleaguered retailers.
--With assistance from Gadfly's Andrea Felsted.
Before it's here, it's on the Bloomberg Terminal.
LEARN MORE