Aurelius Can't 'Weaponize' Law in Global Debt Dispute, Judge Says
By
New York ruling opens way in $19 billion Brazil reorganization

Hedge fund's argument for Dutch jurisdiction in Oi is rejected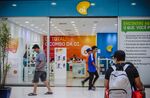 Aurelius Capital Management's bid to "weaponize" bankruptcy law in the restructuring of Brazilian telecom company Oi SA has been denied in a U.S. court opinion that offers a rare critique of the hedge fund's investment strategy.
Aurelius, which specializes in distressed debt, had fought in Dutch and New York courts for an Oi unit to reorganize under Netherlands law. A ruling in Manhattan bankruptcy court Monday denied that bid, clearing what has been a major roadblock for the $19 billion reorganization. The court also laid out how bondholders should behave in international restructuring cases, saying Aurelius's tactics clashed with the very aims of insolvency law.
Aurelius will suffer a setback to its strategy as a result. The hedge fund had in this case sought to use Dutch rather than Brazilian law because it would help it potentially claw back billions for itself and similarly situated creditors and argue for a "double dip" -- or recoveries against both the Dutch unit and the Brazilian parent.
Aurelius made its arguments under Chapter 15 -- a part of the bankruptcy code that supports foreign reorganizations -- to "collaterally attack" the company's Brazil-based restructuring, Judge Sean Lane in New York said in his 120-page opinion.
Aurelius said in a statement that it "respectfully" didn't deserve the criticism leveled at it by the ruling, noting that it had already petitioned for the Dutch bankruptcy when New York's bankruptcy court recognized the Brazilian proceeding in July 2016.
Undermining Move
Lane called Aurelius's moves a "weaponizing" of the law, and said the act undermined Chapter 15's goals of assisting financially troubled businesses, promoting cooperation with U.S. and foreign courts, and creating greater certainty for trade and investment.
Aurelius and similarly situated bondholders, calling themselves an "international" group, had argued the opposite in the case. They said the Dutch unit and its Brazilian parent chose to access international debt markets via the Netherlands to gain tax advantages when it issued its notes, and should therefore restructure there to make international investments more predictable.
The court opinion won't resolve all of Oi's problems. It comes as the massive debt restructuring, underway since June 2016, is beset by a new wave of challenges in Brazil, including an abrupt resignation by its chief executive. The company has about 140,000 employees and offers mobile phone coverage to around 93 percent of Brazil's urban population, according to court papers. It faces a Dec. 12 deadline to propose a new reorganization plan.
'Disturbing Picture'
"The evidence here presents a disturbing picture," Lane said in his opinion. "A creditor unhappy with Brazilian insolvency proceedings decided to strategically remain silent through a Chapter 15 recognition of those proceedings by this court while planning -- and eventually executing -- a strategy designed to reverse that recognition and block any restructuring in the Brazilian proceeding."
The petition for bankruptcy in the Netherlands had been filed by Jasper R. Berkenbosch, a trustee for Oi's Dutch unit. Aurelius had supported that petition.
Lacking 'Candor'
At trial, lawyers battled over whether a company's activities in one country tie it to that nation for other legal matters. Aurelius was accused of manipulating the case by other creditors. The hedge fund said that wasn't the case, arguing that creditors don't have the same power as companies to manipulate which jurisdiction a company will reorganize under.
The ruling comes amid predictions that debt restructuring will become more international, and concerns about how "bankruptcy tourism" can be wielded as a tool.
Lane agreed with that in his opinion, but said Aurelius "initiated a campaign of frequent and aggressive contact with Mr. Berkenbosch" to initiate a Dutch bankruptcy. Meanwhile, it wasn't forthright in his own court, Lane said. "Aurelius's actions also reflect a lack of candor before the court," and the fund "sought to rally like-minded creditors to its cause" through an investment memo, according to his ruling.
"We wholeheartedly agree that parties should deal with the courts with utmost candor and good faith," Aurelius said in the statement. "We are confident we did so in this instance."
'Hostile Acquisition'
Lane's opinion blacks out references to how much of the Dutch unit's debt Aurelius holds. The international group held $2.6 billion in bonds across the company's capital structure, according to prior court filings. Lane noted that a fund controlled by Aurelius increased its holdings in the Dutch unit after the Brazilian court process had already been recognized.
Oi and another group of debtholders, holding $1.2 billion in bonds more concentrated in the Brazilian units but including $242 million of the Dutch unit's debt, had opposed Aurelius in U.S. court.
A representative for Oi, which flagged the decision in a filing, declined to comment. A large shareholder which had opposed the strategy along with Oi said in a statement that the ruling is a loss for Aurelius. "The vulture fund positions itself as a creditor but it is actually seeking a hostile acquisition of the company," Societe Mondiale said in a comment sent by email.
The ruling left open the possibility that Aurelius could return to Manhattan bankruptcy court if it doesn't like how the Brazilian restructuring ultimately plays out.
The case is Oi SA, 17-11791, U.S. Bankruptcy Court, Southern District of New York (Manhattan).
— With assistance by Fabiola Moura, and Kenneth Pringle
Before it's here, it's on the Bloomberg Terminal.
LEARN MORE