Kenyan Opposition Accuses Police of Killing 215 Since August
By and
Leader Odinga slams arrest of colleague seeking vote reform

East African nation saw three months of electoral uncertainty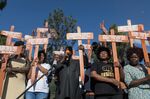 Kenya's main opposition leader accused the police of killing more than 215 people since a disputed vote in August and described the arrest of a colleague who's pushing for electoral reform as political intimidation.
"Innocent Kenyans" died at the hands of "trigger-happy police officers," Raila Odinga, who competed in the Aug. 8 election but withdrew from a rerun, said Monday in a televised press briefing. Police spokesman Charles Owino said by phone he wasn't immediately able to comment on the allegations.
President Uhuru Kenyatta was sworn in last week for a second term following three months of electoral uncertainty that undermined investor confidence in East Africa's biggest economy. Odinga called the October rerun a sham after electoral authorities failed to implement reforms his National Super Alliance, or Nasa, demanded to ensure a fair vote.
The alliance said David Ndii, chairman of the steering committee of its so-called People's Assembly, was arrested near the port city of Mombasa on Sunday. Ndii was appointed Dec. 1 to the forum that's calling for changes to Kenya's electoral system.
The Office of the Director of Public Prosecutions said Monday evening that Ndii was ordered released on a police bond and investigations are underway, without specifying what he's accused of. Philip Etale, communications director for the Orange Democratic Party that belongs to the Nasa coalition, also said by phone that authorities had ordered Ndii's release.
"These are basically signs to try and intimidate and blackmail the people of Kenya," Odinga said Monday. "Mr. David Ndii has committed no crime and we know why Ndii is being harassed here -- and we know that the matter is not ending with Mr. David Ndii. I know that other people are going to be arrested."
Before it's here, it's on the Bloomberg Terminal.
LEARN MORE