politics
U.K. Fears Brexit Breakdown as May Takes Best Offer to Lunch
By and
May meets Juncker in Brussels on day the EU set as deadline

European Court of Justice remains major obstacle in talks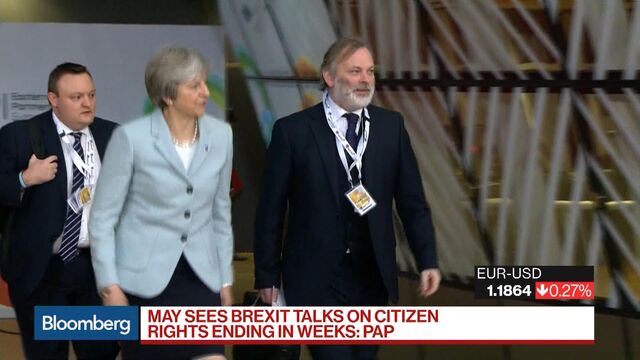 Follow @Brexit for all the latest news, and sign up to our daily Brexit Bulletin newsletter.
Brexit talks risk being torpedoed by the taboo issue of the European Court of Justice, a senior British official said, as the U.K. downplayed expectations of a breakthrough when Prime Minister Theresa May meets European officials in Brussels on Monday.
A deal on what happens to the Irish border after Brexit remains elusive, and the role of the ECJ in enforcing the rights of citizens has re-emerged as a major obstacle after a weekend of intense talks, according to the British official and a person familiar with the EU side. May has gone as far as her party will allow and a rejection from Europe now would risk a breakdown in talks, according to the U.K. official.
May has lunch with European Commission President Jean-Claude Juncker on Monday, which the EU has set as the final deadline for her to come up with concessions if she wants talks to move on to trade by year-end. In a sign of the ground she needs to make up, an Irish minister on Monday said a breakthrough isn't close on the border issue.
The U.K. pushed back against Monday's deadline, saying the crucial date is the EU council summit on Dec. 14, and U.K. officials -- in public and in private -- played down expectations of an imminent breakthrough.
"With plenty of discussions still to go, Monday will be an important staging post on the road to the crucial December council," the British government said in a statement late on Sunday.
May is prepared to make some concessions on the role of the ECJ after Brexit, enraging members of her Conservative Party for whom the court is a symbol of lost sovereignty. But the compromise may not go far enough to satisfy the EU. The European Parliament, which wields a veto over the final Brexit agreement, has insisted the ECJ has a role protecting the rights of EU citizens in the U.K.
Why EU Court of Justice Is a Brexit Battleground: QuickTake Q&A
The U.K. is aiming to win the approval of the other 27 EU states for talks to move on from the separation to the future relationship at the leaders' summit on Dec. 14. Lunch on Monday is meant to be a stepping stone toward that. Without progress by the end of December, officials on both sides worry Brexit negotiations will collapse.
Some Tory euroskeptics, already uneasy with May's concessions on the financial settlement that Britain will pay when it leaves, think May should be ready to walk out now.
"If they don't want to go for trade, the money should be off the table, and if there are no trade talks by Christmas we need to get ready to depart on World Trade Organization terms," former Conservative leader Iain Duncan Smith said in an interview.
Irish Border
Two other divorce issues need to be signed off before negotiations can move on: an outline agreement has been reached on the financial settlement and talks have intensified on how a hard border can be avoided on the island of Ireland once Northern Ireland quits the EU along with the rest of the U.K. The invisible border on the island now is only possible because of the EU's single market and customs union, which the U.K. plans to leave.
Why Ireland's Border Is Brexit's Stubborn Puzzle: QuickTake Q&A
"I do not believe we are" close to a breakthrough on the border question, Irish Minister for European Affairs Helen McEntee told the BBC on Monday. While Ireland isn't "looking to veto anything," and progress has been made over the weekend, "it is absolutely impossible for us to allow the negotiations to move on to phase two when we don't have an absolute concrete commitment form the U.K. government that we will not have a hard border on the island of Ireland," she said.
Foreign Minister Simon Coveney struck a more upbeat tone in an RTE radio interview minutes after McEntee spoke. He said that "hopefully" a way forward can be found on Monday, and that Ireland needs "clear" wording that no border will re-emerge. The Irish cabinet meets on Monday.
One British official said late on Sunday the prospect of a solution to the Irish question was still bleak.
Words That Work
According to the Irish Times, the chances of an agreement on Monday are less than half. Ireland wants Britain to declare that it attaches the same importance to avoiding a hard border as it does to leaving the customs union and single market. 
May needs to find a solution that pleases Dublin and doesn't alienate the Northern Irish party that props up her government in London.
She will set out her case on Monday to Juncker at the European Commission's headquarters, where the pair are due to meet at about 1 p.m. Brussels time. They are likely to be accompanied by U.K. Brexit Secretary David Davis and EU chief Brexit negotiator Michel Barnier, according to two British officials.
Before they sit down to eat, Davis and Barnier are planning to hold a separate meeting to take stock of progress made during frantic behind the scenes negotiations last week and over the weekend.
ECJ Compromise
The battle of the ECJ is of totemic importance on both sides. European leaders want the ECJ to keep its legal power to protect the rights of EU citizens living in Britain after Brexit in 2019, arguing that U.K. courts could dilute the entitlements of foreign nationals over time.
May has previously ruled this out but is now offering to give the ECJ a permanent role, to the dismay of many euroskeptics in her own party.
Under May's plan, the Supreme Court in London will be able voluntarily to refer cases involving EU citizens to the ECJ, when the law needs to be clarified. 
That doesn't go far enough for those who want to maintain an automatically binding role for the Luxembourg-based court. 
Officials in London believe France and Germany are the most resistant to May's plan, privately saying that the negotiations will be pushed back if these two countries do not compromise.
The European Parliament, which has a veto over the final deal, has also demanded a role for the ECJ and last week called for the U.K. to do more to defend EU citizens' rights after Brexit.
"We will not change our red lines. The lives of millions of families are at stake," European lawmaker Manfred Weber, and an ally of Angela Merkel, said on Twitter.
— With assistance by Kitty Donaldson, Viktoria Dendrinou, Dara Doyle, and Alex Morales
(
Updates with words from Ireland's McEntee, Coveney from third paragraph.
)
Before it's here, it's on the Bloomberg Terminal.
LEARN MORE