The Pound Has Little Room to Rebound, Even With a Brexit Breakthrough
By
Sterling rallied last week on reports of U.K.-EU compromise

Santander expects 'buy the rumor, sell the fact' dynamic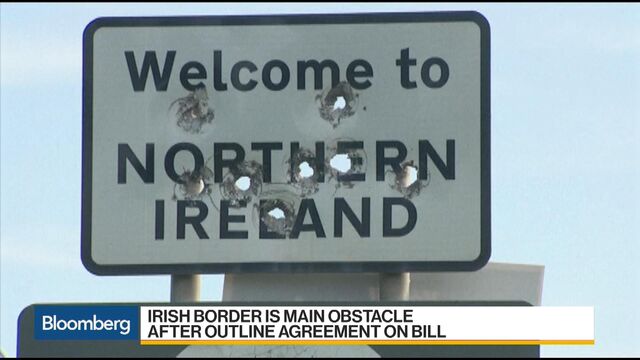 The pound may not have much room to rebound further even if Brexit talks advance this week.
A market that is already positioned for a breakthrough in the talks, as well as the possibility of the Federal Reserve raising U.S. interest rates in December, could put a cap on sterling's gains, according to Stuart Bennett, head of Group-of-10 currency strategy at Banco Santander SA.
"Momentum is to the upside, but I suspect it might struggle to push much higher," said Bennett. If progress is made "it might be a case of buy the rumor, sell the fact and if it doesn't, the pound slips."
Sterling posted its biggest gain since mid-October last week, amid a falling dollar and hopes of progress being made on Brexit, following reports that the U.K. was willing to compromise on the exit bill to get approval to begin discussing its future relationship with the European Union.
Gains Capped
Even if the U.K. manages to move talks with Europe on to trade, the next challenge will be getting a tailor-made deal. U.K. Prime Minister Theresa May has already said the U.K. can "do much better" than a Canada-style deal that the EU may offer.
All of this means that while sterling has strengthened on the hope of beginning trade discussions, there are further hurdles ahead for the currency, according to Commerzbank AG currency strategist Thu Lan Nguyen.
"From the looks of it, the chances are high that the EU commission will express satisfaction with the progress made so far and thus confirm the market's expectations," said Nguyen. "In this case the pound would remain at its current high levels but it won't appreciate much further as the second phase of the negotiations will still be quite difficult."
Before it's here, it's on the Bloomberg Terminal.
LEARN MORE