France's Griveaux Says Africans to Take Lead on Libya Migrants
By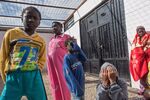 African countries have to take the lead on rescuing migrants trapped in camps in Libya, French government spokesman Benjamin Griveaux said.
French President Emmanual Macron said last week during a visit to Burkina Faso that a "police and military" effort was needed to bring home the migrants, who are mostly from sub-Saharan Africa and are in the hands of human traffickers as they seek to reach Europe. Macron did not say who would lead the effort.
"There needs to be an inter-African force that can intervene," Griveaux said Sunday on Europe1 radio. "African countries have to take the lead."
The African Union estimates there are between 400,000 and 700,000 migrants in at least 42 camps, and has already arranged some repatriation flights. Griveaux said the subject could be discussed a Dec. 13 meeting in Paris between France and the joint G5 Sahel military force it supports. The force, whose aim is to fight Islamic militants, includes Mali, Niger, Chad, Mauritania, and Burkina Faso.
Before it's here, it's on the Bloomberg Terminal.
LEARN MORE