Australia Set for Record Interest-Rate Pause as Wages Languish
By
RBA likely to match record unchanged runs at Tuesday meeting

Quarterly GDP data this week forecast to show 0.7% growth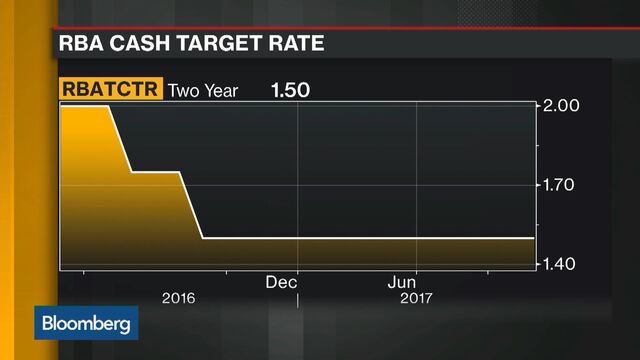 Australia's central bank is on track for its longest stretch of unchanged interest rates as it bets a tightening job market will begin to put upward pressure on wages -- at some stage.
The Reserve Bank of Australia is expected to leave its cash rate at a record-low 1.5 percent Tuesday for a 15th straight meeting. That will match unchanged runs that ended in December 2014 and October 2003. A further pause expected through much of next year could make the central bank something of an outlier as developed-world peers look to withdraw stimulus.

Australian policy makers are grappling with an unusual divergence: business confidence is strong and firms are starting to invest and hire; yet consumers are saddled with debt after loading up on property, confidence is weak and stagnant wages are forcing them to draw on savings. While macro-prudential measures have slowed investor lending and cooled house prices, the RBA is acutely aware of households' sensitivity to rate rises.
"While calls for the RBA to address the growing level of household debt are reaching fever pitch, slowing house prices -- at least in Sydney -- will be alleviating some concern," said Alan Oster, chief economist at National Australia Bank Ltd. "The RBA will remain somewhat concerned about the state of consumer spending and will be reluctant to raise rates until there are reliable signs that wages growth is moving in the right direction."
Governor Philip Lowe himself said last month that the amount of spare capacity in the economy and weak inflation meant policy change was off the table in the near-term, though he reiterated the next move was likely to be up.
Mixed Bag
Australia's jobless rate has fallen to a more than four-year low of 5.4 percent amid a burst of full-time hiring; and firms outside mining have begun investing after an extended period of restraint. But intense retail competition is causing deflationary pressures which are making it tough for employers to boost pay packets. Meanwhile, Australia's household debt has climbed to a record 194 percent of income, among the highest in the developed world.
A day after Tuesday's policy meeting, gross domestic product data is expected to show a 0.7 percent increase in the third quarter and a 3 percent gain from a year earlier. The annual figure will be boosted by the absence of a 0.4 percent contraction in the third quarter of 2016.
The RBA is relying on 3 percent growth for a couple of years to soak up slack in the economy and generate sufficient labor-market tightness to embolden workers to ask for pay rises. The problem is that in the U.S., U.K., Germany and Japan, where unemployment is below what constitutes technical full employment, there are still very few signs of wage growth. This issue continues to vex policy makers the world over.
As to when the RBA may raise, the median estimate in a Bloomberg survey is for the fourth quarter of 2018. Money markets see the first real chance in 12 months' time, and the International Monetary Fund similarly said it could be a year before any tightening.
Then there's Bill Evans, chief economist at Westpac Banking Corp., who predicted the 2011 easing cycle -- against the consensus. He expects the RBA to remain on hold until 2020, equivalent to a 40-month period of no change.
Quotes from this Article
Before it's here, it's on the Bloomberg Terminal.
LEARN MORE