Zimbabwe President Changes Cabinet After One Day
By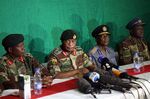 Zimbabwean President Emmerson Mnangagwa has made changes to his cabinet a day after announcing his executive team, Chief Secretary to Cabinet Mischeck Sibanda said.
"Adjustments have been made to ensure compliance with the constitution and considerations of gender, demography and special needs," Sibanda, said Saturday in a statement to reporters in the capital, Harare.

Christopher Mutsvangwa, who was on Friday named as information minister, will be a special adviser to Mnangagwa. Petronella Kagonye was appointed as minister of labor and social welfare and Paul Mavima will be minister of primary and secondary education. Joshua Malinga was named a special adviser on disability issues in the office of the president.
Mnangagwa replaced Robert Mugabe after he resigned last month to end 37 years in power and faces an economy in free-fall, with a 90 percent jobless rate, a severe cash shortage and crumbling public infrastructure. His cabinet announcements have been dominated by loyalists to the ruling Zimbabwe African National Union-Patriotic Front, dashing hopes of significant change, Tendai Biti, leader of the opposition People's Democratic Party and a former finance minister, said Friday.
The new cabinet will be sworn in on Dec. 4, Sibanda said.
Before it's here, it's on the Bloomberg Terminal.
LEARN MORE