Trump Says 'Nothing to Hide' as Flynn Plea Brings Mueller Closer
By and
Democrats pounce on Trump's tweet as knowledge of lawbreaking

Flynn plea possible building block for obstruction charges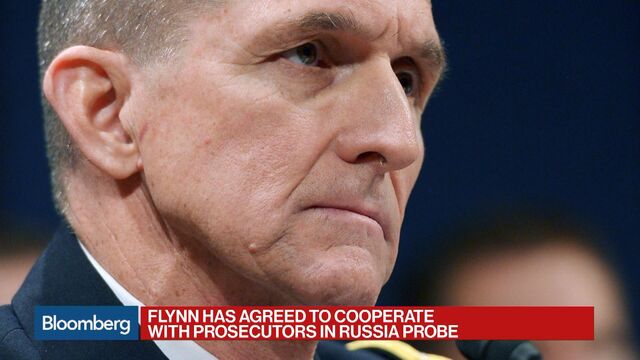 Former National Security Adviser Michael Flynn's guilty plea has given Special Counsel Robert Mueller new leverage that may help him pursue more serious charges against others close to Donald Trump, perhaps leading up to the president himself.
Trump, however, greeted the news with a show of confidence, signaling that he believes his campaign and transition teams are on solid legal footing in Mueller's probe. In a Saturday tweet, Trump said Flynn's contacts with Russians before the inauguration didn't violate law.
"I had to fire General Flynn because he lied to the Vice President and the FBI. He has pled guilty to those lies. It is a shame because his actions during the transition were lawful. There was nothing to hide," Trump told his almost 44 million Twitter followers.

Democratic lawmakers seized on the president's tweet.
"Trump's claim today that he fired Flynn because of lies to FBI, as well as (Mike) Pence, shows knowledge of lawbreaking he concealed -- never before disclosed," Senator Richard Blumenthal of Connecticut, a former state attorney general, said on Twitter. "Obstruction of justice in the Oval Office unfolding before our eyes in real time."
Representative Adam Schiff of California, ranking member of the House Intelligence Committee, asked in a tweet, "Why did you fail to act until his lies were publicly exposed? And why did you pressure" then-FBI Director James Comey "to 'let this go?"'
Trump Hits Back
Trump hit back in a later tweet Saturday night in which he said: "So General Flynn lies to the FBI and his life is destroyed, while Crooked Hillary Clinton, on that now famous FBI holiday 'interrogation' with no swearing in and no recording, lies many times ... and nothing happens to her? Rigged system, or just a double standard?"
Flynn is now cooperating with Mueller, and as part of his plea deal he provided information related to Trump's son-in-law and senior adviser Jared Kushner, according to two people familiar with the matter -- a sign that Mueller's probe is closing in on the president's inner circle. Legal experts said Mueller may seek to use Flynn's testimony to build a broader case of conspiracy or obstruction of justice.
Earlier on Saturday, Trump said he wasn't worried about what Flynn may tell investigators probing possible collusion between Russia and members of the Trump team during the 2016 presidential campaign. "There has been absolutely no collusion. So we're very happy," Trump told reporters as he prepared to board Marine One at the White House.
Contacts With Russians
Senior White House officials have privately backed Trump's remarks, saying they believe Flynn didn't violate law in his contacts with Russians, but did when he lied to the FBI, one senior administration official said. The person, who spoke on condition of anonymity, believed that Flynn didn't know that the contacts were lawful and therefore felt the need to lie about them.
Flynn told Mueller that he communicated with Russia's ambassador to the U.S. during the presidential transition last December about American foreign policy with the knowledge and direction of senior Trump associates, according to a court document.
The contacts with Russia could violate the Logan Act of 1799, which prohibits U.S. citizens from interfering with relations between the U.S. and foreign governments, said Senator Dianne Feinstein of California, the top Democrat on the Senate Judiciary Committee.
It's unlikely Mueller would bring criminal charges solely based on the Logan Act, which doesn't appear to ever have been used as grounds for prosecution, according to 2015 report by the Congressional Research Service. One U.S. official, who asked to remain anonymous, said that a Logan Act case would be a victory for Trump and laughable as the grounds for impeachment moves by Congress.
Timing of Flynn Lies Shows Risks to Kushner: Bloomberg View
Another White House official said the Logan Act wouldn't apply during the period between Trump's election in November and his January inauguration. The administration instead believes that the transition team -- which used a government email system and worked out of federal facilities -- would be covered by transition guidelines that authorized them to talk with foreign governments.
Still, if Mueller identifies violations of the Logan Act, they could be a building block in making a broader case against Trump or his associates, according to Patrick Cotter, who prosecuted mobsters as an assistant U.S. attorney from 1986 to 1994.
"Mueller's not sitting there saying 'I'm building the world's greatest Logan Act case,"' said Cotter, who now heads the white collar criminal defense practice at Greensfelder, Hemker & Gale PC in Chicago. "The Logan Act is rare. Conspiracy -- not so much."
Sergey Kislyak
Under his deal with Mueller, Flynn pleaded guilty of one count of lying to federal agents and provided details about the controversial conversations he held with then-Russian ambassador Sergey Kislyak. In those discussions, Flynn urged Moscow not to react strongly to sanctions imposed by then-President Barack Obama and to help head off a United Nations resolution condemning Israel.
Trump was president-elect at the time and Flynn was a private citizen, although the retired Army lieutenant general was expected to be named to the White House national security post.
According to a court filing, Flynn said that a "very senior member" of the presidential transition team asked Flynn on Dec. 22 to contact Russian officials to help delay or defeat the UN resolution on Israel. The very senior member was Kushner, according to the people familiar with the events.
Bannon, Priebus
Another person familiar with the push against the UN resolution said it was a collaborative effort that involved advisers Stephen Bannon and Reince Priebus, who went on to become Trump's first White House chief of staff, as well as Kushner. Ultimately, Obama decided not to exercise the usual U.S. veto against such condemnations of Israel, and the resolution went through.
Flynn also said he reported back on Dec. 29 to a "senior official" in the transition team at Trump's Mar-a-Lago resort in Florida on his conversations with Kislyak about the sanctions that Obama imposed on Russia because of its meddling in the presidential campaign, the document said.
That official, according to the people familiar with the matter, is K.T. McFarland, who was brought into the transition team and later the White House by Flynn. The people asked not to be identified discussing internal matters.
The transition official and Flynn "discussed that the members of the Presidential Transition Team at Mar-a-Lago did not want Russia to escalate the situation," according to the court document. Shortly after, Russian President Vladimir Putin announced he wouldn't take retaliatory measures against the Obama sanctions.
Conspiracy 'Hub'
White House attorney Ty Cobb downplayed the significance of Flynn's decision to cooperate with Mueller. Cobb noted that Flynn was ousted from his post in Trump's administration for misleading Vice President Mike Pence about the nature of his conversations with Kislyak.
"Nothing about the guilty plea or the charge implicates anyone other than Mr. Flynn," Cobb said in a statement.
But now that Flynn has "flipped" from target to witness, to use a favorite term of prosecutors, Cotter said Mueller has a central figure who can provide insight into what was happening within Trump's inner circle.
"Flynn becomes, potentially, the hub of a wheel of conspiracy," Cotter said.
"It's not at all surprising to people who do this kind of work that the actual charges as you are building your case don't go to the heart of the criminal enterprise that you're investigating," Cotter said. "This is clear evidence that Mueller has now moved an entire level up the ladder of his investigation."
In a statement released on Friday, Flynn said his guilty plea and agreement to cooperate with the special counsel's office "reflect a decision I made in the best interests of my family and of our country."
— With assistance by Megan O'Neil, and Jennifer Jacobs
Before it's here, it's on the Bloomberg Terminal.
LEARN MORE