Erdogan Calls U.S. Court Hearing Iran Sanction Case 'Artificial'
By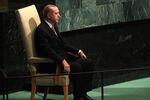 Turkish President Recep Tayyip Erdogan said the U.S. court that's hearing the case of a banker accused of helping Iran evade sanctions is "artificial".
In his first direct comments against the court since the hearing started on Nov. 28 in New York, Erdogan claimed in a televised speech the court was established by "Gulen's representatives", referring to the U.S.-based cleric Fethullah Gulen, who the Turkish government blames for the 2016 coup attempt.
"Those artificial courts cannot sentence my country," he said in Kars, a province in the east of Turkey, at an event of the ruling AK Party.
Erdogan was implicated for the first time in the plot to help Iran evade U.S. sanctions when Reza Zarrab, who laundered billions of dollars on behalf of Iran, told the jury Thursday that a senior Turkish official said to him then-prime minister Erdogan personally signed off on a plan to involve two Turkish banks in the scheme.
Zarrab, once a defendant, started to coorporate with prosecutors in late October after a plea agreement. The case will continue on Monday with Zarrab testifying in the case against banker Mehmet Hakan Atilla.
"We didn't violate the embargo," Erdogan said in a speech Thursday in Ankara to lawmakers from his ruling party, the state-run NTV reported. "Whatever comes out of the trial, let it come out. We did the right thing."
A Turkish prosecutor yesterday ordered a seizure of the assets of gold trader Zarrab and at least 20 of his family members and contacts, Cumhuriyet newspaper reported. Istanbul Deputy Chief Prosecutor Hasan Yilmaz cited "Zarrab's espionage, revealing secret information for benefits of foreign states" as the reason for seizure assets, according the paper.
Before it's here, it's on the Bloomberg Terminal.
LEARN MORE