Egypt Presidential Hopeful's Fate Uncertain on Return From Exile
By
Daughters accuse Egyptian authories of kidnapping Shafiq

Shafiq last month announced plan to run in 2018 elections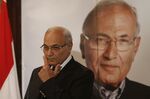 The daughters of a former Egyptian prime minister, who has declared his intention to run in next year's presidential elections, said they feared he may have been detained after leaving the United Arab Emirates, where he has been in exile for years. 
The whereabouts of Ahmed Shafiq, a former air force fighter pilot who fled after losing the 2012 presidential runoff to the Muslim Brotherhood's Mohamed Mursi, remained unknown the day after U.A.E. state news agency reported he left the country to return home. His lawyer, Dina Adly, had said earlier on her Facebook page that Shafiq was arrested at his home in the U.A.E. and deported, and that she had since lost contact with him.
Shafiq never arrived at his villa in an eastern suburb of Cairo on Saturday night. Family members and supporters waiting at the residence said they were unsure where he'd been taken after his arrival, or whether he would be allowed to run. The state-run Al-Ahram Online website cited an unidentified person late Saturday as saying that Shafiq had checked into a hotel. His daughters, however, accused Egyptian authorities of "kidnapping" the 76-year-old and denying him access to a lawyer. They said they intended to sue over his treatment.
"Twenty-four hours he has been detained and his lawyer doesn't know anything about him and has not seen him," his daughter, Amira Ahmed Shafiq, said in a voice recording sent to Bloomberg. "No one can guarantee he is even on Egyptian territory as no one has seen him."
The Egyptian government and military authorities didn't immediately comment.
In a surprise announcement on Nov. 29, Shafiq said he planned to run in an election in which incumbent Abdel-Fattah El-Sisi is widely expected to seek a second term. Shafiq served in the government under President Hosni Mubarak, who was ousted in the 2011 revolt, and faced corruption charges in the aftermath of the uprising. But the deputy head of Shafiq's political party, Raouf El-Sayyed, said he'd been cleared of the charges and that there was no impediment to his candidacy.
Serious Challenge?
If allowed to run, Shafiq would offer the most serious electoral challenge so far to El-Sisi, who has yet to confirm a re-election bid.
As military chief, El-Sisi removed the Muslim Brotherhood from power in mid-2013 following mass protests against Mursi's one-year rule. He won a presidential election in a landslide the following year, vowing to restore stability to a country rocked by upheaval since 2011.
The U.A.E. has been strongly supportive of El-Sisi, who they see as a buffer against Islamic extremists, and the foreign affairs minister accused Shafiq on Twitter of being an ungrateful guest after he declared his candidacy.
El-Sisi launched a crackdown on opponents in which hundreds of Brotherhood supporters were killed and thousands jailed. But an insurgency in northern Sinai has become more violent, culminating in November's mosque attack in which more than 300 people were killed.
Only a handful of candidates have come forward so far. They include human rights lawyer Khaled Ali, whose bid may be curtailed by a possible legal case. Another is a little-known army colonel Ahmed Konsowa, who announced his candidacy in a video the same night as Shafiq.
Before it's here, it's on the Bloomberg Terminal.
LEARN MORE