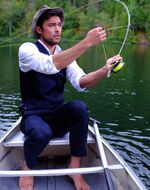 We're all smartphone junkies now, but unlike previous personal technologies such as televison, VCRs and home computers this doesn't mean we're all living more sedentary lives. Social media's spread has coincided with a surge in interest in the great outdoors. That's no bad thing for companies like Sweden's Thule Group AB.
Good-looking hipsters are using Instagram to show off their perfect lives. The pursuit of the ultimate wave, off-piste run or mountain bike trail must be polished, posted and appended with a smattering of inspirational hashtags such as #vanlife. If #wanderlust isn't your thing, perhaps you've started doing triathlons on weekends and want your friends to know how fit you are. Either way, Thule's products -- bike racks for cars and RV equipment, among other outdoorsy things -- have a knack of turning up in envy-inducing Instagram photos (indeed, Thule sponsors some of them).
We can argue about why a generation of people that check their iPhones 80 times a day is yearning for something more visceral, but it's hard to deny it's happening. The road is cool again. And it's not just millennials. Retiring baby-boomers want to relive their days on the hippy trail, or regret missing out the first time, and have the cash to do so in comfort.
Sales of RVs (camper vans and caravans to us English folk) in north America jumped 15 percent last year to their highest level in 40 years. 1  Shares in Winnebago Industries Inc. and Thor Industries Inc., owner of the Airstream brand, have soared in the past year. So have those of French motor home company Trigano SA.

But even the most fastidious packer has trouble fitting their skis, bike, surfboard and kayaks inside the vehicle, which is where Thule comes in.
The company controls more than half the global market for roof-racks, rooftop storage boxes and bicycle carriers -- not the sexiest products, to be sure, but very practical. The demanding certification process and broad product range needed to attach different sporting equipment to different sized vehicles are barriers to entry. Thule also sells awnings, tents and other RV accessories. Sales in that segment are up 30 percent this year. 

With dividends reinvested, Thule's shares have returned almost 200 percent in the three years since its IPO, valuing the company at 18.8 billion Swedish kronor ($2.25 billion). Group sales are expanding about 5 percent annually and it's very profitable. Operating margins are already about 18 percent and it's targeting more than 20 percent. The company aims to pay out at least half of net income in dividends.
True, bike carriers are relatively niche. Once a consumer has bought one, they probably won't need another for years. Thule is trying to expand in other product categories that gel with its aesthetic: Bicycle seats for kids that allow urban mums and dads to drop their offspring off at kindergarten before riding to work, or those strollers you see being pushed along in parks by affluent joggers. Acquisitions are a possibility. Bugaboo, a stroller maker beloved by celebrities, has put itself up for sale and could be a target "theoretically", chief executive Magnus Welander says. 
Unlike its customers, Thule isn't perfect. Sales of the company's camera bags (it owns the Case Logic brand) are suffering because of the rise of smartphones. Thule is pivoting toward backpacks and premium luggage instead. RV sales are cyclical, so Thule's sales in that category will slow at some some point. And with the shares trading on 24 times estimated earnings, Thule's no bargain. Even so, its outdoors acumen and earnings power are rather #likeable.
It's a similar story in Europe where motorhome sales rose by almost one fifth in 2016.
Before it's here, it's on the Bloomberg Terminal.
LEARN MORE